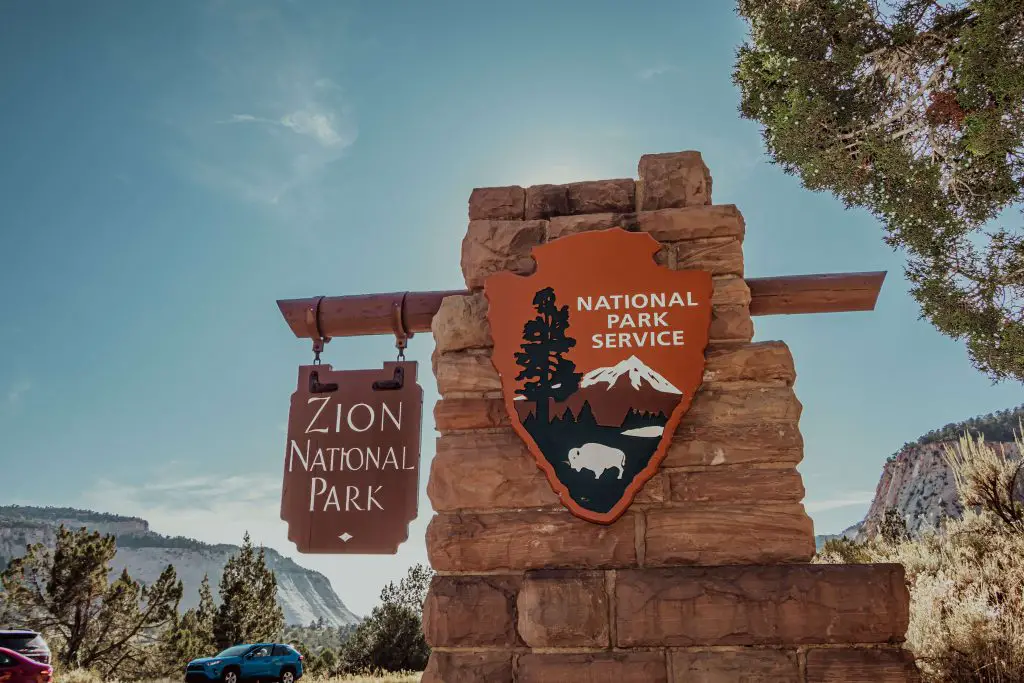 Located in Southwest Utah, as of November 2020, the entrance fee to Zion National Park is as follows:
Personal Vehicles (non commercial): $35
RVS: $35
Motorcycles: $30
Per Person (Pedestrian or Biker): $20
The entrance fee is required for all visitors who are visiting Zion National Park and you cannot transfer your pass. You can pay for the card via credit card at the fee collection stalls. The entrance fee goes towards helping the mark with trail maintenance, facility maintenance, park programs, and historical programs. With this program in place 80% of the proceeds from the park entrance fee goes directly towards helping Zion National Park and the other 20% goes towards other national park projects. Once you obtain your entrance fee pass, display it on your dashboard during your stay.
How long is the entrance fee for Zion National Park valid for?
All passes from personal vehicles to pedestrian passes are valid for a full seven days. This must be a consecutive seven days as you cannot leave the park and return after some number of months. If you want to continue to return to Zion and not have to pay the entrance fee every time, consider purchasing the Zion Annual pass for just $70. This pass nearly pays for it itself after just two visits!
Are there any discounts for the Zion National Park Entrance Fee?
With park entrance fees increasing, its understandable to want a discount on the park entrance fee. There are a variety of methods to help visitors save money. With a little bit of planning you can save a lot of money or even enter the park for free! You can consider the America the Beautiful Annual Pass, a fourth grader fee free pass, a Military Annual Pass, Senior Passes, or visit during a fee free day. Here is a breakdown of the different ways you can save money on the park entrance fee:
America the Beautiful Annual Pass: $80
The national park service offers an annual pass for just $80. You can purchase the America the Beautiful pass directly from a ranger at the entrance station. This pass is good for a full twelve months from the date of purchase and allows you to enter national parks and various federal lands for free! This pass is definitely worth it if you plan on visiting at least three national parks within the same year.
Fourth Grader Fee Free Annual Pass: Free!
The National Park Service has teamed up with the Every Kid Outdoors organization and has created a fee free pass for all fourth graders. All you have to do is sign up for the pass at [https://everykidoutdoors.gov/index.htm](https://everykidoutdoors.gov/index.htm) and bring it to the entrance station to get in for free! Be sure to print it out as electronic copies will not be accepted. This awesome annual pass helps bring the next generation to see our beautiful national parks completely for free!
Military Annual Pass: Free!
If you or your friends/family are active in the US Military, then you are eligible to receive a military annual pass for free. This pass allows you to enter national parks completely for free for the entire year! This is a great deal for all active duty members. Keep in mind that this pass is not shareable as the person who's name is on the pass must be present at the entry station.
Senior Passes: $80 or $20
Available for seniors to save money on the entrance fee are the Life Time Park Pass for just $80 or if you are on a budget you can buy the $20 Annual Pass. Both passes allow seniors and their passengers to enter national parks or various federal lands for free. This pass is definitely a great deal and saves you money right away!
Fee Free Days: Free
There are six fee free days to enter the national parks. These dates vary every year so be sure to check with your calendar for the exact date:
Martin Luther King Jr Day: Middle of January
First day of National Park Week: Middle of April
Great American Outdoors Day: Start of August
National Park Service Birthday: End of August
National Public Lands Day: End of September
Veterans Day: Middle of November