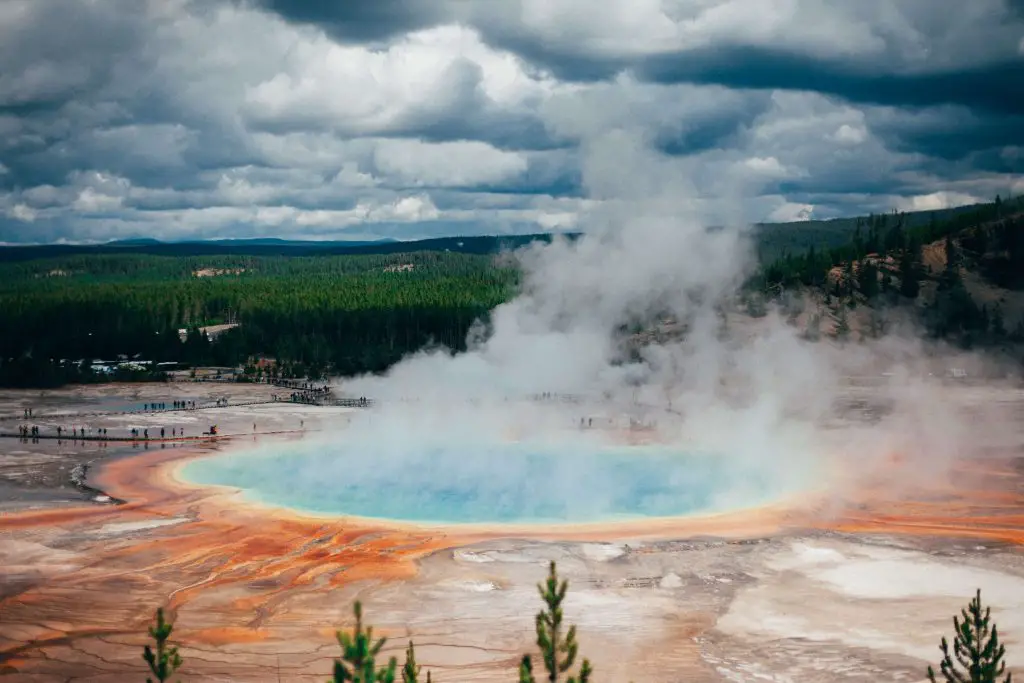 Located in Northwest Wyoming, the entrance fee to Yellowstone National Park Entrance is as follows:
Non-commercial Private Vehicles $35
Non-commercial RVS: $35
Personal Motorcycles or Snowmobile: $30
Individual Person (By foot, bike, snowshoes, ect.): $20
A wonderful national park featuring world famous geysers, rainbow colored pools of water, stunning waterfalls, gorgeous canyons, and a large variety of wild life, Yellowstone National Park is absolutely worth the entrance fee. The entrance fee goes towards helping the park with maintaining trails, facilities, amenities, park programs, historical park programs, and so much more. With millions of visitors each year, every dollar helps keep the park pristine and keep the experience great for new visitors.
How many days is the entrance fee to Yellowstone National Park Valid for?
The entrance fee for Yellowstone is valid for a full seven days. Once you pay the ranger you will receive a receipt and park pass that is good for seven consecutive days. You are not allowed to use the pass over a large period of time or share the pass.
What if I'm only going to be in Yellowstone for a few hours?
Even for visitors who are only visiting the national park for a short time are required to pay the full fee to visit the park for a day. The entrance fee allows you to see amazing sights and sounds, utilize the parks facilities, parking, and more. 80% of your proceeds goes directly towards helping Yellowstone National Park and the other 20% goes to assist other national park programs. If you're looking to save money on your entrance fee, we have some tips below.
Are there any discounts for Yellowstone National Park Entry Fee?
There are numerous ways for park visitors to save money on the entrance fee if you do a little bit of planning or if you happen to visit the park at the right time! If you're looking to save money you can look into purchasing the America the Beautiful Annual Pass, the Senior Passes, Military Passes, Fourth Grader Pass, or visit the park on a fee free day. Below is a breakdown on each option to help you save money:
America the Beautiful Annual Pass: $80
The National Park system offers visitors an annual pass that is valid for a full twelve months. The pass cost just $80, but allows you to enter in any national park or federal land for free. You just need to visit at least three national parks to make your money back, so if you are planning to visit multiple national parks in the same year, the annual pass is a no brainer!
Senior Lifetime Pass or Annual Pass $80 or $20
Available to seniors is either a lifetime pass or an annual pass. Both of these passes allow free entry into the national parks. The lifetime pass is a great deal for those looking to explore national parks for many years to come! Just visiting three national parks nearly pays for the life time pass. Or for those on a budget or only wanting to visit parks for a year, the annual pass at $20 is also a great option!
Military Annual Pass: Free!
For those of you in the military or if you have friends or family that are active duty in the US military, the national park service provides free annual passes. These passes are valid for a full twelve months. All you need to do is present your active duty military Id to the ranger at the entrance station and you will receive a military annual pass. This allows you to enter national parks at no cost! The one thing to keep in mind is that this pass is not shareable and the person who owns the pass must be present.
Fourth Grader Annual Pass: Free!
The Every Kid Outdoors organization has teamed up with the national park system to provide every fourth grader in the US with free annual passes for national parks. This pass is created to inspire every fourth grader to take their families to national parks completely for fee entry. Just sign up and print out a pass at https://everykidoutdoors.gov/index.htm. Be sure to print out the pass as the electronic copies will not be accepted by the ranger.
Fee Free Days: Free!
The national park system celebrates a variety of holidays or special occasions and provide park visitors with fee free days to enter the national parks. These dates will vary per year, so be sure to double check your calendars for the appropriate dates. Keep in mind the park gets busier on these dates as other park visitors will also be taking advantage of zero fees!
Mid-January: Martin Luther King Jr Day
Mid-April: First day of National Park Week
Beginning of August: Great American Outdoors Day
Last week of August: National Park Service Birthday
End of September: National Public Lands Day
Mid-November: Veterans Day