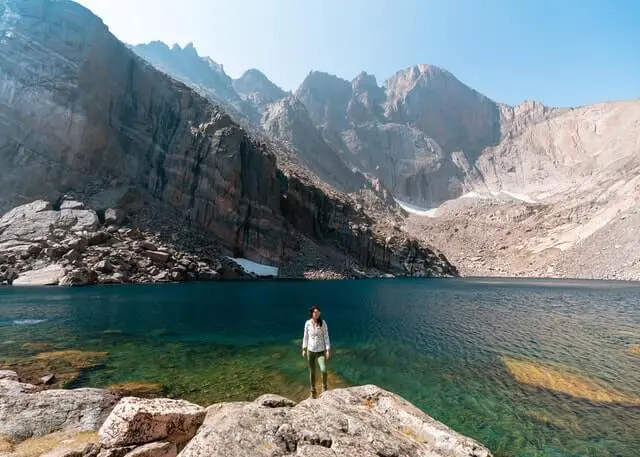 Rocky Mountain National Park has the following entrance fees:
Non- Commercial Personal Car : $35
Non-commercial RV: $35
Motorcycles: $30
Pedestrians or Bikers $20 per person
In June of 2018 the National Park Service increased their fees to help national parks with park infrastructure, facility maintenance, and assist with park programs. Rocky Mountain National Park features hundreds of miles of hiking, majestic towering granite mountains, serene glacial lakes, beautiful forest, and so much more.
How long is the park entrance fee valid for?
Once you have your park entrance pass it is valid for a full seven days upon entry. You can feel free to leave and return to Rocky Mountain National Park with the pass. Keep in mind this entrance fee is valid for seven consecutive days as you cannot enter for one day, leave for some weeks and return. This pass is also not shareable and only applicable to the vehicle that you entered in.
Can I pay the park entrance fee with a credit card?
As you enter the park you can pay for your park entrance pass with both credit card or cash. Credit cards are valid in the east side of the park at the Beaver Meadows Entrance Station. Taking care of visitors in the wild basin area is the Wild Basin Entrance station which also takes credit card. Located on the west side of the park is the Grand Lake Entrance station which too accepts credit cards.
Can I buy the pass online ahead of time?
If you want to plan ahead of time and get your park entrance pass you can actually buy a pass at Recreation.gov. You can pay online with your credit card. From there you will be emailed an order confirmation with a PDF that contains your park entrance pass. Print out the pass and present the park entrance pass to the ranger at the entrance station to Rocky Mountain National Park.
Are there any ways to save money on the entrance fee?
Rocky Mountain National Park provides many options for visitors to save money on the entrance fee. You can save money by purchasing the Annual Rocky Mountain Entrance Pass, the America the Beautiful Annual Pass, a Military Annual Pass, a Senior Lifetime or Annual Pass, or visit the park during a fee free celebration.
Rocky Mountain National Annual Pass: $70
Rocky Mountain National Park provides visitors who want to visit the park over a twelve month span with an annual pass that cost just $70. After three visitors to the park you more than get your moneys worth. This pass is a great option for those who live relatively close to the park as you will be able to see the park change throughout the seasons and save a lot of money!
America The Beautiful Annual Pass: $80
Another great option for visitors is the America the Beautiful Pass. This is one of the best deals to save money on national park entrance fees. This annual pass allows visitors to enter any national park or various federal lands completely for free for an entire twelve months. This is a great choice if you plan on visiting multiple national parks in a twelve month timeframe as you will make your money back and more after visiting three national parks.
Annual Military Pass: Free
The national park system provides active duty US military members with an annual pass to enter any national park for free. All you need to do is provide your active duty identification to the park ranger at the entry station. From there you will receive the annual military pass. Keep in mind that this pass is not shareable and the person who obtains the pass must be present as an id check will be done upon entry.
Senior Lifetime pass or Senior Annual Pass: $80 or $20
Available to seniors that are visiting Rocky Mountain National Park or any national park are the lifetime pass or the annual pass. The lifetime pass is a wonderful deal at $80 as it allows you to enter the national parks for free for the rest of your life. Or if you are planning on visiting many national parks over the next twelve months another fantastic option is buying the senior annual pass.
National Park Fee Free Days: Free!
The national park system celebrates six holidays by providing fee free days for park visitors. The six holidays that don't have an entrance fee are Martin Luther King Jr. Day(Middle of January, first day of National Park Week (Middle of April), Great American Outdoors Act Day (start of August), National Park Service Birthday ( end of August), National Public Lands Day ( end of September), and Veterans Day(Middle of November). That's right if you visit Rocky Mountain National Park on any of these days you don't need to pay a park entrance fee!