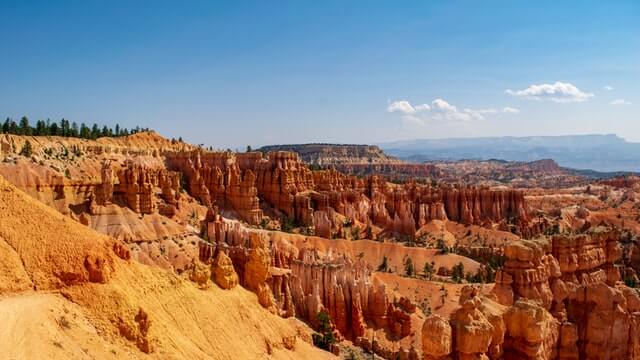 I've been to Bryce Canyon to hike a few times in the past and like you, one of the first questions I've had was what airport is near Bryce Canyon? Bryce Canyon is located in a remote area of Southwest Utah, so finding the closest airport can be tricky and a be a balance between convenience and cost.
The closest regional airports to Bryce Canyon are:
Beaver Municipal Airport-U52 (71 Miles)
Cedar City Regional Airport (92 miles)
St. George Regional Airport (148 miles)
While these airports are very close to Bryce Canyon, flights can be limited and very expensive as they are much smaller airports. Flights to these airports are likely very expensive and not economical choices, so most of my friends and I choose to fly into major airports to save money on flights and make the drive.
The three closest major airports to Bryce Canyon are:
(LAS) McCarran International Airport in Las Vegas, NV – 267 Miles away
(SLC) Salt Lake City International Airport – 273 Miles
(PHX) Phoenix Sky Harbor International Airport – 427 miles away
Although these major airports are significantly further away from Bryce Canyon, the savings on your flights is definitely worth it. Due to Bryce Canyon being in a remote area, it is a challenge for most visitors to decide on an airport to fly into.
Which major airport is the closest drive to Bryce Canyon?

The major airport that is the closest drive to Bryce Canyon is the McCarran International Airport in Las Vegas, Nevada at 273 miles away. This is approximately 4 hours and 5 minutes drive from Las Vegas to Bryce Canyon.
If you are planning a long trip you could also add in Zion National Park as a stop on your way to Bryce Canyon as it is only 167 miles form Las Vegas, which is a 2 hour and 46 minute drive. Another potential stop just outside of Las Vegas is the Valley of Fire State Park which is 55 miles away or approximately a 1 hour drive.
If you are still in the planning stages I recommend at least one full day per park as there is so much to see at each park. You could easily spend an entire weekend in each of Zion National Park, Valley of Fire State Park or Bryce Canyon as they have so much to see and do.
How far is it from Phoenix to Bryce Canyon?

The distance between Phoenix to Bryce Canyon is 427 miles or approximately a 7 hour drive. This is a pretty far drive, however you can plan stops at other parks to break up the drive.
A potential pit stop between Phoenix and Bryce Canyon is Grand Canyon National Park. The Grand Canyon is 232 miles from Phoenix, which is about a 3 hour and 40 minute drive. This would be a fantastic place to stop to spend for a day or two before moving onto Bryce Canyon. One thing to keep in mind is Grand Canyon is a slight detour to the west and you will have to do some backtracking on the road. The drive from the Grand Canyon to Bryce Canyon is 368 miles which is just a bit over a 6 hour drive.
How far is Bryce Canyon from Salt Lake City Airport?
Salt Lake City Airport is North of Bryce Canyon National Park.Bryce Canyon is 273 miles away from the Salt Lake City Airport which is approximately a 4 hour drive.
Summary

Bryce Canyon National Park is home to the notorious red orange Hoodoo rock formations, natural rock formations such as Thor's Hammer, the Queen, and so much more. Planning the logistics for Bryce Canon can at first be difficult, but once you realize its challenging for everyone to get to the remote park, the options become more clear.
The best choice airport for most is the McCarran International Airport in Las Vegas, but you have a variety of options to pick from.
Which ever airport you pick, you can also make a larger trip and add on stops to break up your drives.
Despite the challenging logistics, once you lay your eyes on the gorgeous Bryce Canyon amphitheater of Hoodoos that has sweeping views of the beautiful landscape it will all be worth it. The packing, flight, and long drive will all be forgotten as you look up at Thor's Hammer, the Queen, and the glorious Hoodoos.