Finding a good pair of reliable and comfortable hiking pants can be a challenge. After over a decade of hiking and trying out many pairs of hiking pants that were too baggy, uncomfortable, and too expensive, I have been able to gather a list of slim fit hiking pants to share with you. It is possible to find slim hiking pants that you can wear without hesitation and head out on your next hiking trip. Check out our guide on what makes a good pair of hiking pants if you are trying to find the best pair for you.https://hellohiker.com/what-makes-a-good-pair-of-hiking-pants/
There are a few things you should be mindful of when picking out slim hiking pants which we will go over down below. Finding these slim fit hiking pants has made my hikes so much more comfortable. No more getting my loose baggy hiking pants caught on debris only to tear. I no longer have to deal with trying to pack down my baggy hiking pants into my packs. Below we help make your decision much easier and we will break down our top 3 hiking pants and cover specifics such as weight, features, width and more.
What to look for when choosing slim hiking pants
Material
One of the most important things to look for in hiking pants is the type of fabric they are made of. There are five commonly used fabrics that outdoor manufacturers will use: nylon, polyester, spandex, cotton, and elastane. A majority of hiking pants are mostly made of nylon with some spandex or some elstane. There are of course cotton hiking pants, but you would want to avoid those as they will be the worst choice if it rains since cotton soaks up water like a sponge.
Having nylon, spandex, or elastane hiking pants is ideal as they will be very comforable and stretch with your legs throughout your hike. These fabrics are very durable and can withstand the elements. Another thing to keep in mind is the breathability of your hiking pants. If your legs get hot easily then you could be a sweaty mess in non breathable pants. Some people prefer the lightweight materials of running shorts, but is it okay to wear them instead of hiking pants?
Weight
The next thing you should look out for is the weight of the hiking pants. Not all hiking pants are created equal as some can weigh more than one pound. The excess materials can make your legs feel heavy if you choose the wrong pair of pants. If you are opting for convertible pants than those will weigh a few ounces more due to the extra zippers. You should rotate your hiking pants depending on the season so you can help make your pants last longer and hike with less weight on your legs.
Features
As you weigh the many options between pants the main deciding factor for most is the additional features. Some features you can expect hiking pants to have are the ability to easily roll up and keep the pant legs up. This will help you during hotter weather or if you need to cross a river. Another feature you can consider is convertible hiking pants with zip off legs. These are fantastic during summer. Other smaller features you should think about are if the pants have belt loops so you can help keep your pants up. Another small feature that makes a big difference is the number and types of pockets. Some pants will have all zip pockets while others will have velcro sealing pockets.
Our Favorite Men's Slim Hiking Pants
prAna Brion Slim Pants II
Pros
Breathable, comfortable with stretch, amd stylish for office or trail.
Cons
Some say too form fitting so try before you buy and limited space in pockets.
Price
$85
Weight
14 ounces
Material
95% Nylon and 5% Elastane
The prAna Brion Slim Pants II are highly rated slim fit hiking pants. With their stylish and modern design, you can take them on the trail, on campus, or in the office. These pants are made of prAna's performance nylon fabric that dries fast and provides durability no matter what environment you put them in. They also have a protective UPF 50 that helps shield against the sun's rays. These pants have standard two pockets in the front and two pockets on the back. I've taken these pants on rigorous trails with steep inclines and they stretch very well and felt comfortable all day.
KUHL Deceptr Pants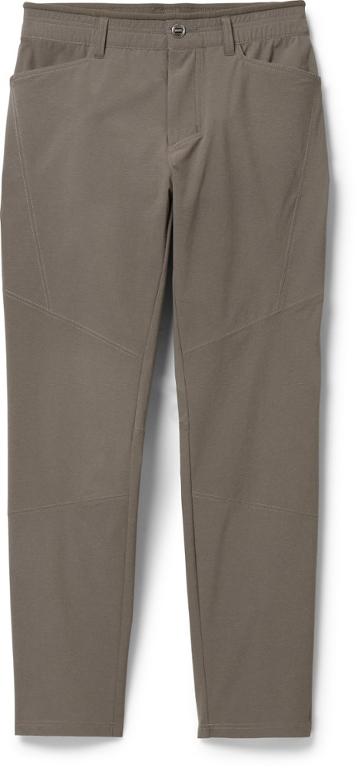 Pros
Lightweight, super stretchy, free movement, and great for travel or hiking
Cons
Pockets would be better with zippers and hips run large for some
Price
$99
Weight
11 ounces
Material
76% Nylon, 15% Elastane, and 9% Polyester
The KUHL Deceptr Pants are fantastic all-around pants that can be used for hiking, travel, or the office. These pants are made of KUHL's lightweight tufflite nylon fabric to provide large range of motion. These pants are incredibly comfortable and have 2 pockets in the front, 2 in the back, and 2 additional pockets for your phone or loose change. These pants also provide a protective layer from the sun with a 50 UPF rating. These pants can easily be mistaken for modern fit office slacks.
prAna Stretch Zion Slim Pants II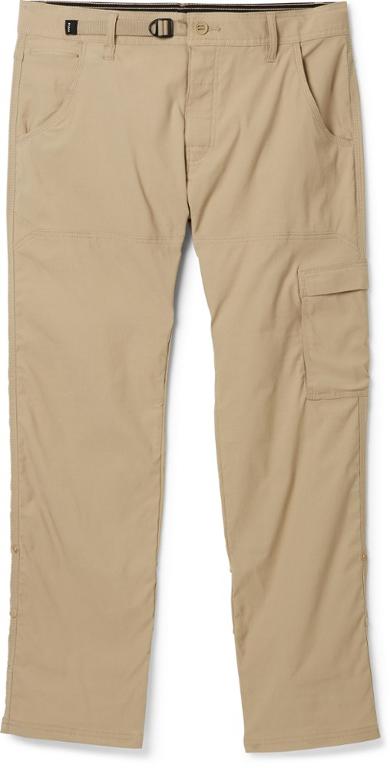 Pros
Breathe well, comfortable, and works for climbing or hiking
Cons
Piling in pockets and might be too slim for some
Price
$95
Weight
14 ounces
Material
95% Nylon and 5% Elastane
The prAna Stretch Zion Slim Pants II are great for hiking, climbing, or the conference room. These are made from prAna's ReZion stretchable fabric that promotes breahablity and comfort. They also have an added layer of sun protection rated at 50 UPF. Alongside the sun protection these pants boast a durable water repellent to shield from moisture and stains. These pants also have a nice roll-up option with buttons to keep the roll held in place.
View prAna Stretch Zion Slim Pants II on Amazon
Our Favorite Women's Slim Hiking Pants

Athleta Trekkie North Jogger Pants
Pros
Easy to move in, no snagging, and super breathable
Cons
Not water resistant and slightly longer than expected
Price
$89
Material
95% Nylon and 5% Spandex
The Athleta Trekkie North Jogger Pants are highly rated pants that are made of durable and lightweight nylon that feel as comfortable as sweats but will keep you protected on the trails. These pants also provide added protection from the sun with a layer of UPF 50+ material. These pants have 3 zip pockets to store your essentials.
Athleta Headlands Hybrid Cargo II Tights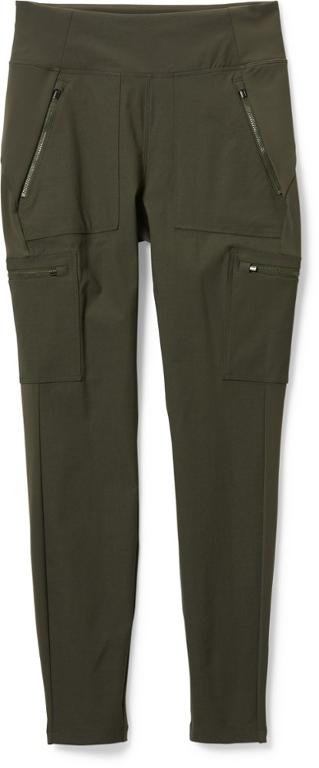 Pros
Comfortable, contours well, and thicker material to stand up to wear
Cons
Can feel too warm for some
Price
$119
Material
91% Nylon and 9% Spandex
The Athleta Headlands Hybrid Cargo II Tights are designed to contour your body perfectly and sit naturally at your waist. The nylon is tough enough to resist snags and tears while out on the trails and will keep you protected from the sun with the UPF 50+ fabric. There is also durable water repellent to prevent moisture buildup and help you stay dry. There are six zip pockets to help keep your essentials secure.
alder Open Air Pants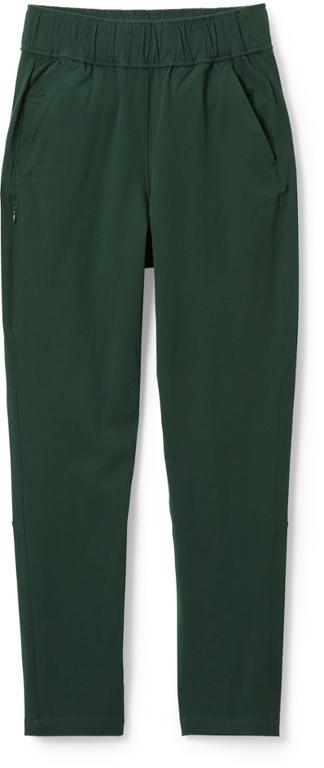 Pros
Light material, Soft, strechy, and very comfortable
Cons
Fabric can easily show sweat stains
Price
$155
Weight
13.6 ounces
Material
84% modal and 6% spandex
The alder Open Air Pants can help you keep up whether you are hiking, climbing, or just walking around the office.These pants come with seven pockets with four having zippers to keep your items secure These pants also have an extra key clip on the side..