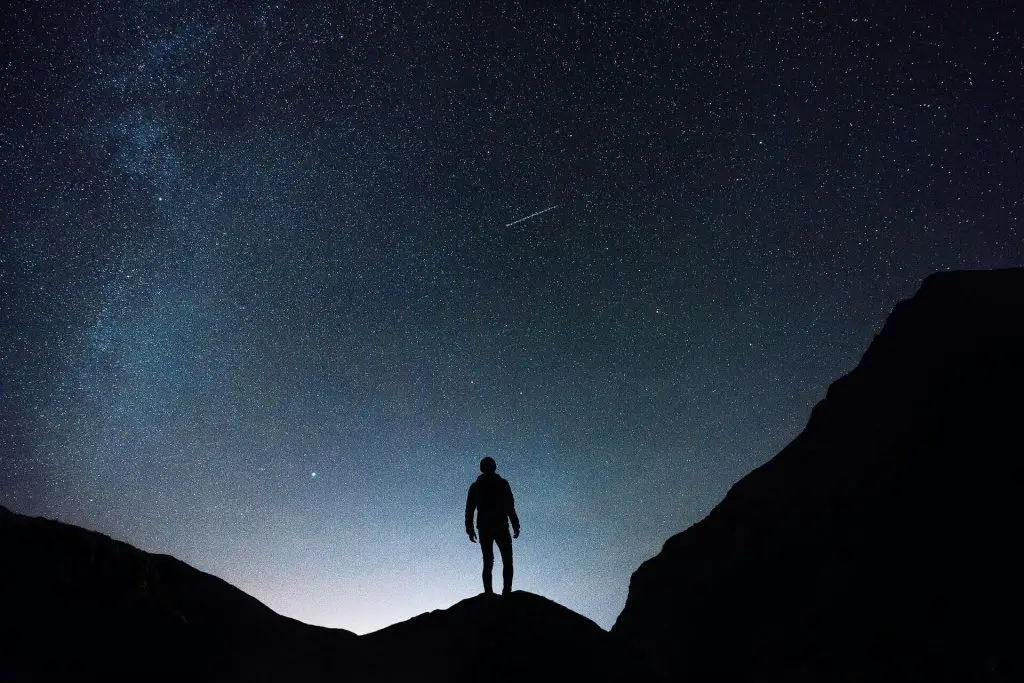 The allure of hiking at night can be a wonderful adventure. You get to experience the hiking trail under the stars and moon. However, beneath the starry sky and cover of darkness there is the unknown. How can you go hiking at night in a safe and worry-free way?
You can hike safely at night by bringing a headlamp or flashlight to illuminate the trail, hike with others so you aren't alone, layer up to keep yourself warm, and hike a familiar trail.
Hiking at night can be a very risky activity if you aren't prepared and don't have the right gear. I used to avoid hiking at night out of fear and worry, but once I knew the proper gear to bring and have a system to follow, a whole new world of hiking opened up for me. Lets go over the things you should bring during the hike and a few things you can do before the hike so you can hike safely at night.
What do you need for a night hike?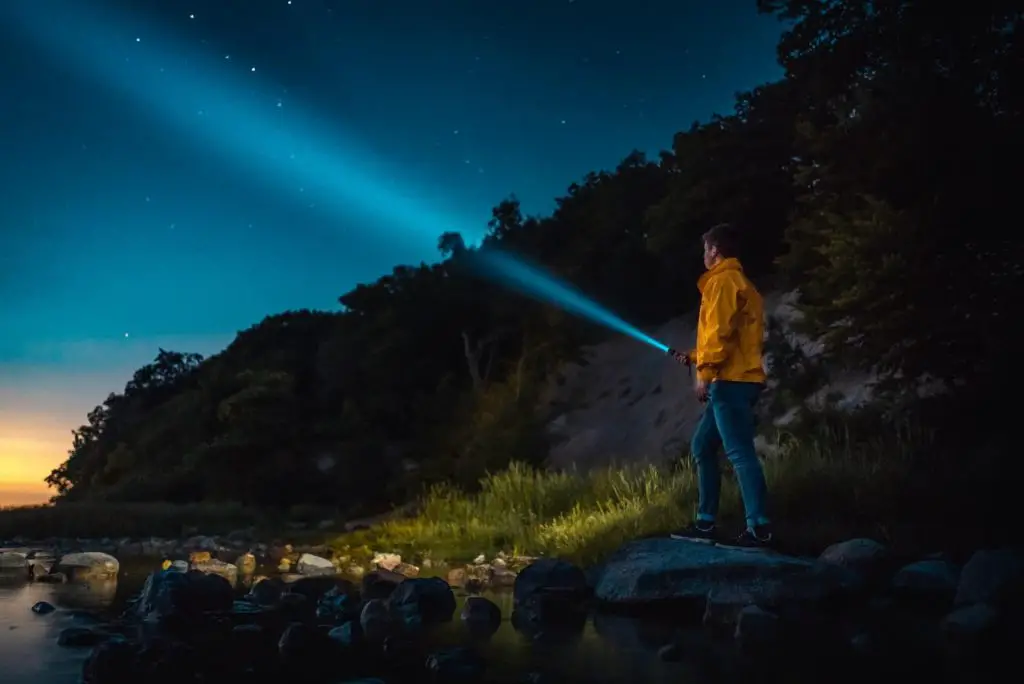 A lot of the fear and anxiety of night hiking can be relieved if you have the right items to help you with the challenges you will encounter from night hiking. The three things you should always have on you before you hit the trails at night are good illumination, enough layers to keep you warm, and proper navigation..
Illumination
The most important thing to bring with you on night hikes is either a headlamp or a flashlight. I personally prefer a headlamp so I can keep my hands free. The headlamp you buy should be bright enough to illuminate at least 10 steps ahead of you. That way you can see any bends or edges as you make your way up the trail. Many headlamp models have brightness settings to allow for further illumination.
Layer System
Once you have your lighting gear settled, the next most important thing you should bring is the right layers to keep you warm as you hike in the night. Having a layer system of a base layer, down jacket, and rain jacket should keep your warm and comfortable on your night hike. You can layer down if its too warm and layer back up if its too cold. Having this flexibility will make the night hike much more enjoyable.
Navigation
The next thing you want to have is navigation whether it be a trail map or a downloaded map. You should have researched the trail beforehand so that you know the exact path and any potential ambiguous spots to be mindful of. This is very important since you won't be able to see the entire path during your hike. Even if this is a trail you have hiked before, things will look and feel completely different in the dark.
If you're still unsure about night hiking, lets go over some of the positive benefits night hiking has to offer!
What are the benefits of night hiking?
Night hiking can cause hesitation and anxiety due to the darkness and unknown, however there are many wonderful benefits of night hiking such as no crowds, cooler temperatures, and complete engagement of the trail in-front of you.
Less Crowds
When hiking at night the crowds will be nonexistent as many people opt to hike during the day time. This will leave you to the trail mostly to yourself. With the lack of crowds you will be surrounded by the sounds of nature and your footsteps. This is a serene and unique experience.
Cool Temperatures
The next benefit of night hiking and one of my favorites is the cooler temperatures. Sometimes its just no fun to be hiking with the sun beating down and the heat hammering you on the trail. With night hiking you have the light of the moon and stars to guide you along the way. The cooler temperatures make for a more relaxing hike.
Engagement
One of the more interesting benefits of night hiking is the sensory engagement. Since the darkness is cast all around you, you will only be able to see what your light reveals. This makes for a great experience as you will only be able to focus on the few steps in-front of you. Night hiking has a relaxing and meditative experience as you have to carefully focus on each step.
What to do before a night hike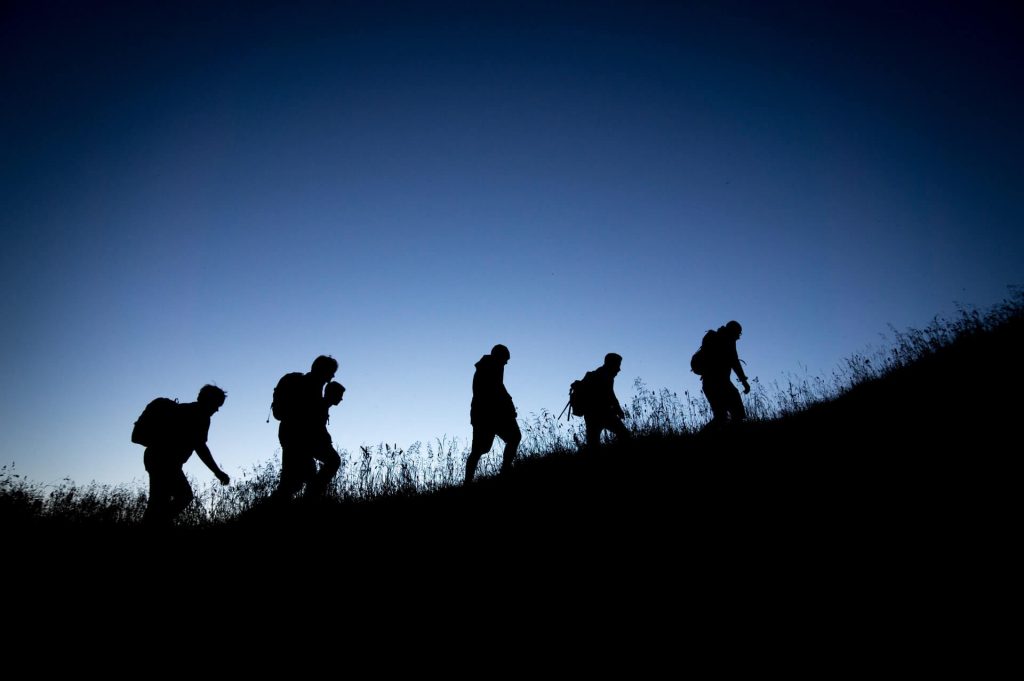 Now that you know the things you need to bring and the benefits of night hiking, there are a few other things you can do before your night hike to lower the stress and make it safer for you on the trail.
Route Planning
The most important thing you should do is route planning. For night hikes you should definitely start with a trail you have already hiked and are familiar with. Once you gain more experience then you can research new trails, but be sure to have the exact path researched, have a map printed out or digital copy, and make note of any ambiguous areas or trail splits to watch out for.
Check-in
Once you have your hike planned, the next thing you should do is tell someone what trail you are hiking, which trailhead, what time you will arrive and when you estimate you will be finished. You should also let them know you will check in with them when you are done with the hike. This will help if the worst case comes and search and rescue need to know your itinerary.
Gear Prep
The last thing you should do is final gear prep. Make sure your headlamp or flashlight has completely charged batteries. Also you can bring a few extra batteries just in case or a back-up headlamp. At this time you want to double check your printed map or digital maps and make sure they are downloaded and accessible offline. These are the two most important items to check the night before your trip. If you are relying on your phone for your map then another thing you should have is an external battery to charge your phone just in case.
Is it Safe to go Hiking at Night?
Hiking at night can be dangerous and risky if you are unprepared. It is safe to go hiking at night if you bring a headlamp, layer up your clothes, and know the route well. You can prepare the night before and get your physical or digital maps ready, check in with a friend so they know your hiking itinerary, and double check your hiking gear. Doing these things will reduce the risk and challenges of night hiking.
To safely hike at night be very mindful of your steps, be extra observant of your surroundings, be ready for the unexpected such as wildlife.
Hiking Pace
As you are hiking around at night you might be tempted to hike your normal hiking pace, however it is much safer to slow down and take it slow. This will help you keep your footing and balance and allow you to see what is in front of you with fewer surprises.
Be observant
Since you will be surrounded by darkness you should try to be observant as possible so you aren't slipping on rocks or stepping on wildlife. Slowing down your hiking will help you avoid these potential missteps. It is easy to get off trail or go in the wrong direction since the whole trail will not be visible, so be mindful of the trail as you advance on the hike.
Final Thoughts
It is normal to have concerns about night hiking. Hiking already has enough challenges even with the sun out, however the new adventures that await for night hiking are endless. If you come prepared and have the right gear then it can be a serene experience.
Night hiking will show you the trails in ways you've never seen before. Bring along someone you know and a set of headlamps and enjoy the night hikes!
More Helpful Resources