Yosemite National Park is a massive national park with many beautiful trails, stunning waterfalls, raging rivers, and diverse wildlife. However, within this beautiful landscape lies challenging trails with extreme exposure, towering waterfalls, rivers that rise with the seasons, and dangerous wild animals. With all of that, is it safe to hike by yourself in Yosemite?
It is safe to hike in Yosemite alone if you research your hiking trail, check the weather beforehand, bring a layering system to help you adapt with changing elements, carry enough water and food, and know what to do if you encounter bears, cougars, or other wild animals.
The alluring beauty of Yosemite attracts millions of visitors per year, but with that many visitors the odds of lost hikers, accidents on the trail, and unlucky encounters with wild animals are high. There are many things you can watch out for and things you can do to prepare to help you hike alone in Yosemite with less worry and be able to enjoy your hike.
Things to Watch Out For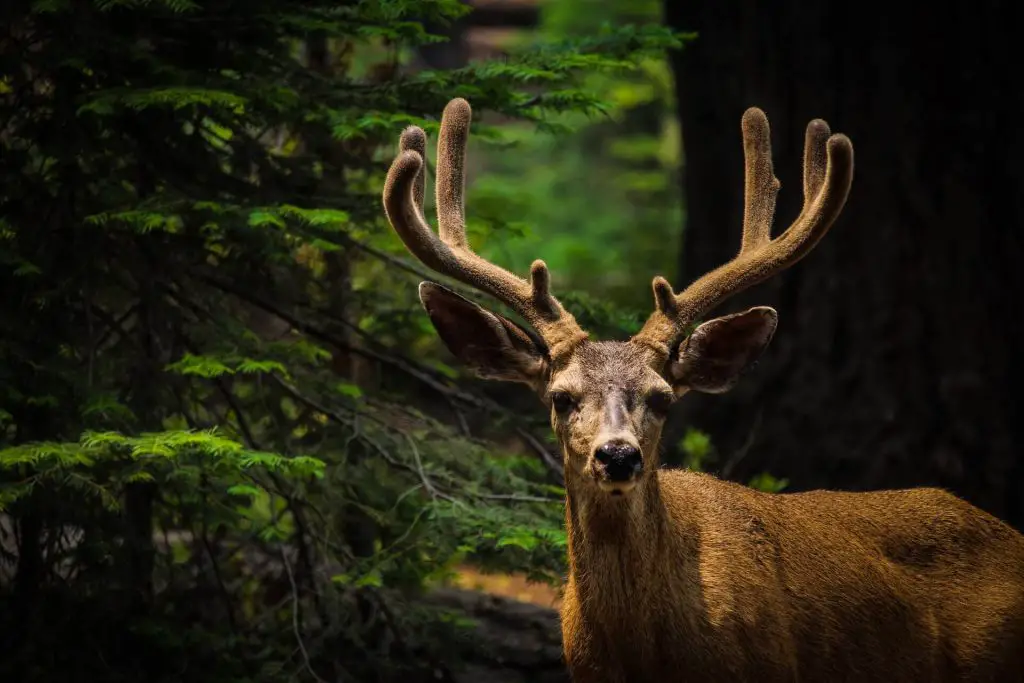 To make it safer to hike in Yosemite alone, there are a few key things you should be aware of and watch out for during your hikes. I have been to Yosemite a handful of times and each time I go there the experience is different whether it be from the changing weather, an unexpected encounter with wildlife, or surprising difficulty of a trail.
Wildlife
The first thing to watch out for in Yosemite is the wildlife. Yosemite is home to black bears, deer, big horn sheep, foxes, and more. The encounters with these animals are incredibly rare, but something to keep in mind as you plan your trip.
Weather
The next thing to be mindful of in Yosemite is the weather. Yosemite is located in the Sierra Nevada Mountain Range which has massive elevation changes on trails. The high elevation and mountainous terrain can create quickly changing weather. You can start the day hiking in the heat of the sun only to be completely rained on in a few hours.
Trail Difficulty
As you are looking into the details of your adventures, there are two things you should consider. The first thing to consider when picking trails is the distance and the next thing to look at is the elevation change. Some trails can be short, but have a large elevation change. The elevation change combined with the heat from the sun can make for some difficult hiking.
Terrain
Once you have the bigger picture on the trails you want to hike, the next thing to look into is the changing terrain. There are some trails that require crossing rivers, bridges, or going alongside massive waterfalls. All of these things present their own unique challenges and danger. Some trails also have extreme exposure as you make your watch up switchbacks to reach your destination. Looking at trail reports and trail descriptions will help you figure out any tricky terrain to watch out for.
Can you hike in Yosemite without Reservation?Since Yosemite is one of the most beautiful national parks in the world, it attracts millions of visitors per year. With such a large number of people interested in visiting, the National Park Service has implemented a entrance reservation system via Recreation.gov during busy season. If you do not have computer access than you can attempt to make a reservation by calling 877-444-6777.
You cannot hike in Yosemite without reservation between May 20 to September 30th. You will need to book a reservation for an entrance permit in order to enter the park and hike. Seventy percent of all reservations for those dates become available in March. Each person can make a single reservation for a three-day period.
The exception to the entrance reservation is if you are able to get a wilderness permit for backpacking or obtain Half Dome permits. You are still required to pay the car entrance fee of $35.
Can I hike Half Dome Alone?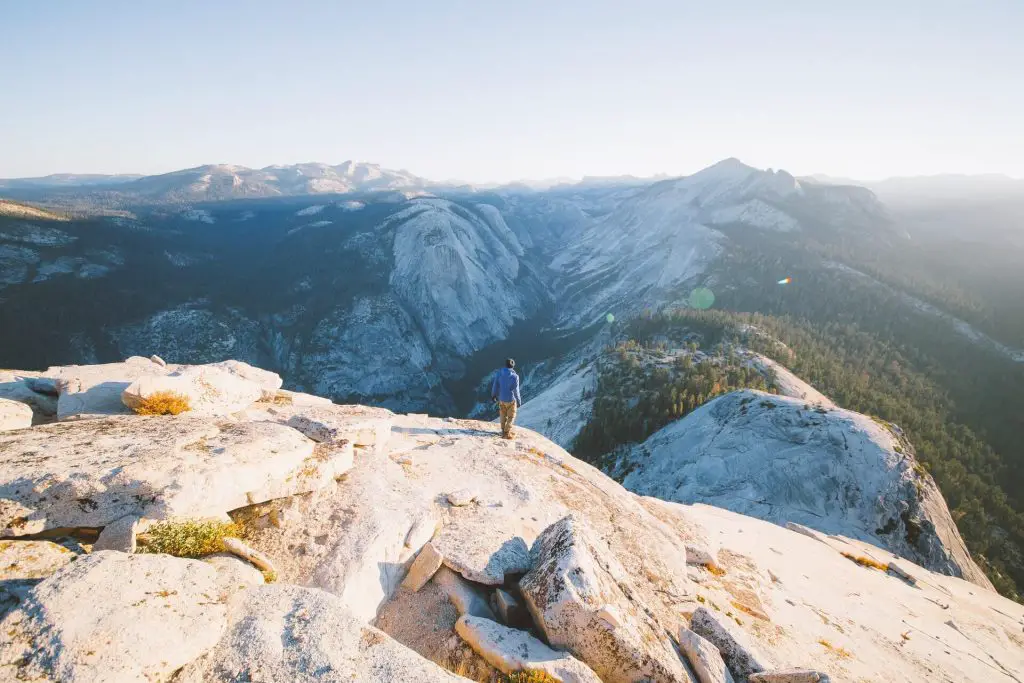 One of the most iconic features of Yosemite is Half Dome. This makes Half Dome one of the most desirable and popular trails to hike in the park. Half Dome is one of the toughest hikes in the park at over 16 miles total round trip and takes hikers over 4,800 feet in elevation gain.
You can hike Half Dome alone as long as you get the required Half Dome permits. The end of the Half Dome hike boasts the infamous cables. The cables help hikers scale a 45-degree slope. You can get a harness to strap yourself into the cables to make yourself much safer during the ascent and descent.
How You Can Get Permits to Hike Half Dome Alone
You need to obtain Half Dome permits to day hike the trail. Permits are required seven days per week when the cables are up. The cables are typically up the weekend before Memorial Day in May to the second Monday in October. The National Park Service only allows 225 day hikers and 75 backpackers to use the cables each day.
You can obtain a permit by entering the lottery on Recreation.gov. The lottery opens up in March and typically fill up quickly. If you are looking to backpack you can obtain a wilderness permit that includes Half Dome. The wilderness permits are typically less competitive than the day hiking permits.
The results of the Half Dome lottery are announced in the middle of April and are sent via email. In addition to the preseason lottery there also exists daily lottery which is to distribute extra spots and canceled permits.
Is it safe to camp alone in Yosemite?
Despite the many obstacles and variety of wildlife you can encounter during your visit to Yosemite, it is safe to camp alone in Yosemite. The campsites are well established and many have bear lockers to help with food storage. If you are camping at a site with no bear lockers then bear cannisters are required.
When camping you want to make sure you collect all trash, items with scent, and food items and place them in bear lockers or bear cannisters. There are many curious squirrels, bears, and deer that will not hesitate to chew through your pack or tent to find food.
Our Favorite Bear Cannister:
Campsite Reservations
Reservations for Yosemite campsites fill up quickly. Reservations are required for all campgrounds and there are no first-come, first-served campgrounds.
To reserve a campground, head to Recreation.gov. The reservations are available one month at a time and up to five months earlier on the 15th day of each month at 7 in the morning pacific time. For the busy months between May through September almost all campsites are booked immediately.
Your best bet to get a campsite reservation is to check five months before you plan to visit and try to book on the 15th day. While there are some cancellations, you would have to check Recreation.gov every single morning in hopes of an opening. I have had some luck with cancellations, however I had to check consistently for two weeks straight.
Final Thoughts
The beauty and allure of Yosemite is worth visiting alone. Despite many challenges and obstacles you will face visiting by yourself, you will see the most stunning sights and have a fantastic outdoor experience. Yosemite National Park is one of my favorite outdoor spaces in the world.
If you research your trails, layer up, carry extra water and food, and know what to do during wildlife encounters then you can confidently and safely hike Yosemite alone.
More Helpful Resources