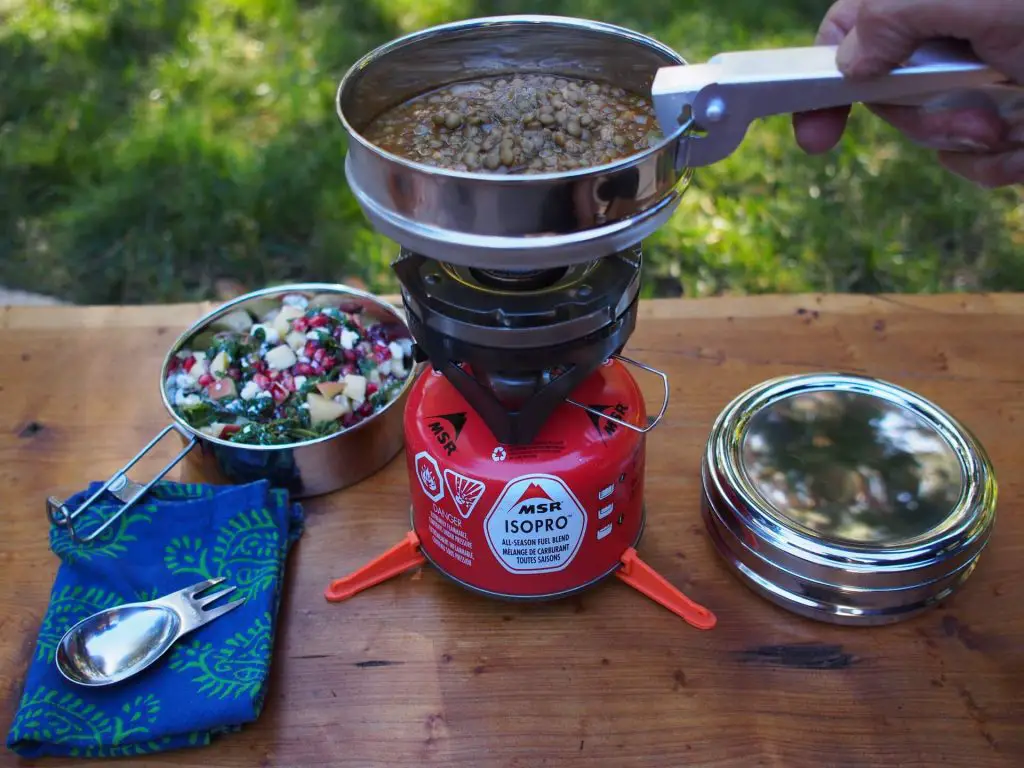 Going camping takes you away from the busy city, into the wilderness, and off the grid. However, with that solitude and disconnect comes the lack of refrigeration. What food can you bring on your camping that doesn't require a fridge, tastes good, keeps you energized, and will last long?
The best food to take camping that doesn't need a fridge are mixed nuts, grains, dried fruits, jerky, and low-sugar bars for snacks. The best items to bring for meals are tortillas, pita, crackers, bread, peanut butter, oats, bag tuna, instant rice, spam, and dehydrated camping meals. These items will keep you full and energized and do not require a fridge.
After backpacking for many years it has taken many trips for me to find the mix that works for me. Below we will go over things to consider so you can carry the least amount of weight, get the most amount of calories and energy, and be happy as you are eating. Picking the wrong mix of food items will make eating feel like a chore, but having the right mix and you will enjoy each and every bite.
Best Snacks to take Camping Without a Fridge

Fresh Food
You have three main options when it comes to types of food you can bring without using a fridge. The first type of food are fresh food, which is food that will typically only last a day. Examples of fresh food would be fresh fruits, cheese, deli meats, sausages, store bought sandwich, to name a few. The benefits of fresh food is the taste and texture cannot be beat, but the downside is the food will go bad pretty quickly.
Fresh food can be a huge morale booster after a long day outdoors. With fresh food you need to consider how to store it in your pack so it doesn't get crushed and isn't directly in the sun. Fresh food is definitely a luxury. If you are car camping and have space for a cooler, then you can keep fresh food for much longer.
Dry Foods
The next option you have for food is dry foods. Dry foods are great because they will last for a really long time and you don't have to worry about them at all in your pack or car. You can bring a ton of dry food on longer trips to keep you well fed. Examples of dry food include nuts, trail mix, jerky, any kind of bar, oats, grains, ramen, bread, and crackers.
Dry foods are a staple for campers since they are very convenient and most don't need to be cooked. For the ones that do, most of the time all you need to do is add some boiling water. The downside of dry foods is they can get boring to eat pretty quickly. Imagine trying to eat the same trail mix for three days in a row. When packing dry foods make sure you have a good mix of caloric density, texture, and flavor. This will make eating the dry foods much easier when you are able to change texture and taste. Dry foods technically includes dehydrated meals too, but we will go over that in more detail in the next section.
The Highest Rated Trail Mix on Amazon
Canned Food
The most old school option for camping is to bring canned foods. With canned food all you need is a pot and some fire to heat it up. Canned food has so many different options to choose from. You can bring chicken noodle soup, tomato soup, beef stew, and so much more. Canned food is a great way to get delicious meals really quickly during your camping trip.
The downsides of canned food is the weight since cans can be very heavy. Another downside to them is the trash of the can once you are done. Also having canned food requires cleanup of the pot you use to heat up your food. Canned food should only be brought on a car camping trip due to the weight they would add to your pack.
Best Meals to Take Camping Without Using a Stove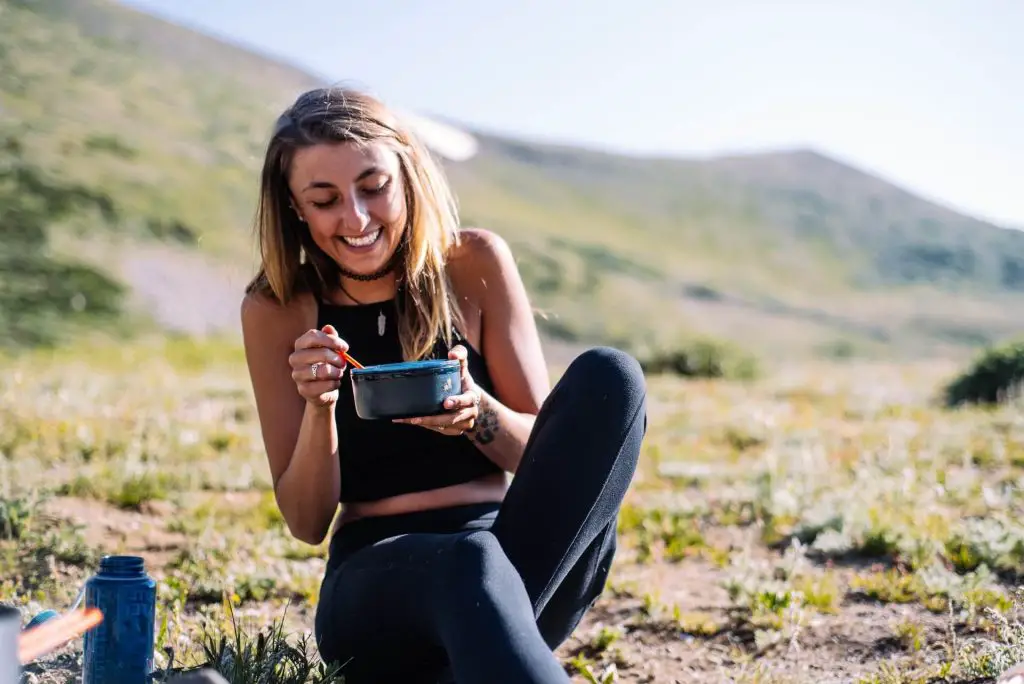 Breakfast Meals for Camping Without Using a Stove
If you want to eat meals without using a camping stove then you have quite a few options. For breakfast you can start with instant coffee and cold water to kick start your day. For food you can make a peanut butter tortilla wrap. This will be full of good calories to keep you energized. If you want something even more calorically dense then you can combine grape nuts and bars. To change it up, another option could be to cold soak oats with dehydrated fruits.
These breakfast options will make sure you are full and have the energy to start your day. This shows you don't need a camping stove to have a good breakfast.
Lunch Meals for Camping Without Using a Stove/h3>
For lunch you have a few options for camping meals without a stove. You could opt to just eat your mix of nuts, trail mix, and jerky while you are on the go. This will help you maintain a good speed with minimal breaks. If you want to have a more relaxed and casual lunch then two great options would be tuna and crackers, sausages and cheese, or the good old tortilla and peanut butter wrap.
Depending on your trip and hiking style it is typically much easier to snack on the go and skip a sit-down lunch. This makes meal planning easier and has you bringing less items in your pack.
Check out StarKist Tuna Packets on Amazon
Dinner Meals for Camping Without Using a Stove
The most rewarding meal after a long day outside is dinner, so what can you eat without using a stove? For dinner if you only care about calories and don't care about texture then you can eat meal replacement bars. Meal replacement bars are just calorically dense bars that are meant to help you replaced the burned calories form your day. Another option to change it up from tortillas is pita bread and peanut butter or some kind of Jam. Pita bread packs great because it won't get crushed and it lasts a long time. The most exciting option on this list is a combination of ready to eat instant rice and some Spam from the Spam Singles package.
Now that you have a good list of breakfast, lunch, and dinner without using a stove, lets now go into food options you can bring that can be cooked with a stove. The difference is worth it for the flavors and the morale boost.
Best Meals to Take Camping With A Stove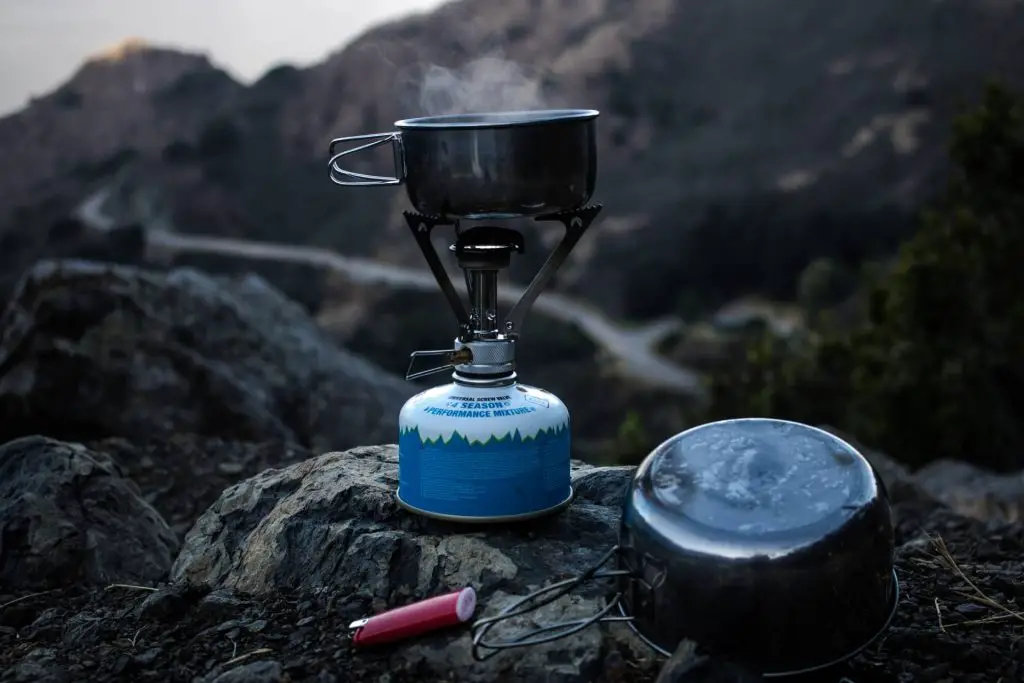 Fantastic Dehydrated Meals for Breakfast
If you plan on bringing a stove then your choice of meals increases dramatically. You can opt to boil water and heat up dehydrated meals. All you need is a portable camping stove and a portable gas canister. These can weigh less than a one pound. With a camping stove you can eat hot oats and fruits. Alongside a hot breakfast you can also make a hot cup of tea or coffee. Coffee might sound crazy, but you can get Kuju pour over coffee for a delicious fresh taste of coffee.
If you want a more savory meal you can opt for Mountain House Breakfast Skillet which comes with eggs, hash browns, pork sausage, and onions. Another great option is Backpacker's Pantry Summit Scramble which comes with scrambled eggs, red beans, cheddar cheese, and peppers./p>
Check out the Mountain House Breakfast Skillet on Amazon
Check out the Backpacker's Pantry Breakfast Scramble n Amazon
Delicious Dehydrated Meals for Lunch
Once you've gotten some miles on the trail, you may want to stop for a nice break and a good lunch. There are many great options for lunch. You can explore Good To-go's Mushroom Risotto or their Mexican Quinoa Bowl. These are very lightweight meals and all you need to do is add boiling water.
Having a nice savory lunch is a great way to boost morale. Be sure to bring gallon zip lock bags to pack away your trash from these meals. There are also plenty of lunch offerings from both Mountain House and Backpacker's Pantry. Use your future camping trips as a fun way to try out many different entrees.
Check out Good To-Go Meals on Amazon
Easy Dehydrated Meals for Dinner
After a long day out in the wilderness, nothing is better then a nice hot savory meal. Your hiker hunger will be so relieved digging into a warm dinner. There are just as many dinner options for you to choose from. For dinner you can explore Backpacker's Pantry Pad Thai, Mountain House Chicken Teriyaki, or Good To-Go Pho.
Check out Mountain House Chicken Teriyaki on Amazon
Check Out Back Packer's Pantry Pad Thai on Amazon
Eating a hot dinner will replenish your lost calories and your energy so you are ready for the next day. These meals are all very convenient, easy to cook, and have minimal clean-up.
Final Thoughts
Now that we have gone over many great items to bring on your next backpacking trip that doesn't need a refrigerator you will be able to make your next camping meal plan with ease. Bringing these items will provide you with caloric density, good textures, and best of all good flavor mix. With every camping trip you take, you will be able to adjust and get the mix that works best for you.
Just because you don't have a kitchen and a fridge, doesn't mean you can't eat really well. After a long day out hiking and other outdoor activities, having the right snacks and delicious meals will help create wonderful memories, boost morale, and revitalize your energy. Enjoy your next camping trip and enjoy each snack and meal!
More Helpful Resources