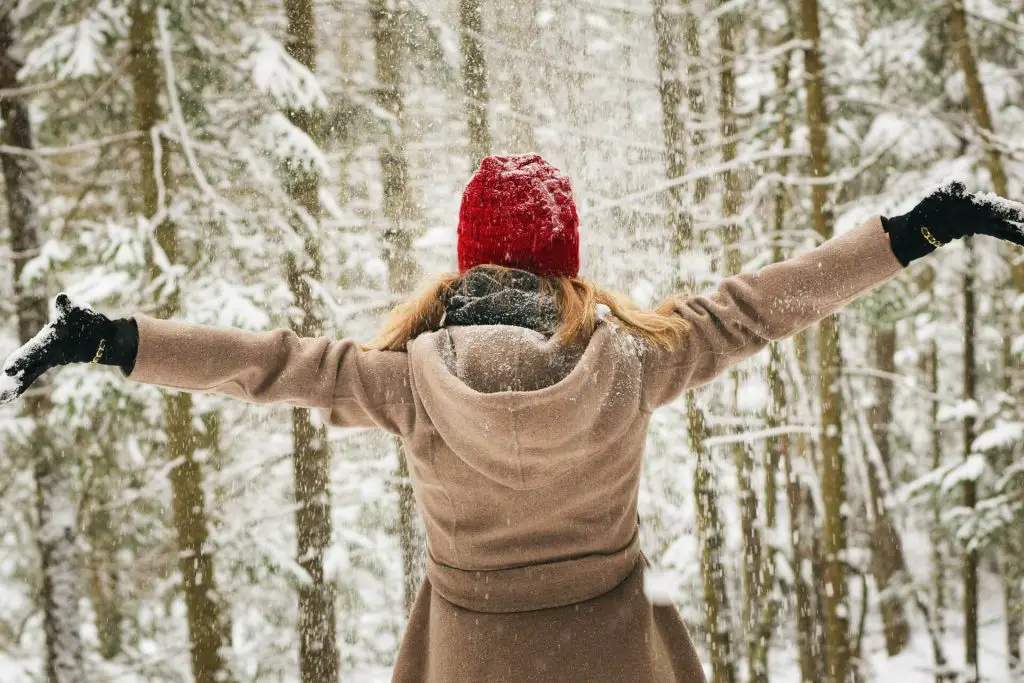 Going on an outdoor adventure during the winter is a great experience to see an area in a whole new way, but it is just so cold that your face hurts. As you're walking around the wind hits your face, your cheeks and nose feel extra chilly. How can you keep your face warm in the winter for your next hike?
To keep your face warm in the winter while hiking you can cover your face with a scarf, a neck gaiter, or use a balaclava. All three options will cover your nose, mouth, cheeks, and ears to keep the bottom half of your face warm.
Hiking in the winter can be a lot of fun, but can be even better if your face, head, and body are warm. Before you decide between a scarf, neck gaiter, or balaclava there are a few things to consider.
What can I wear to keep my face warm while hiking in the Winter?
Scarf
Your first option to keep your face warm and something you may already own is to wear a scarf. Scarves are great because you can wrap up more or less depending on how warm or cold you feel. Scarves are also very comfortable and stylish.
While scarves are a great first choice, they do have some downsides. The first downside of them is the large size and if you are feeling extra warm. Scarves can get very warm, especially as you are on the move. The next downside is that the material for most scarves are cotton. Cotton is not a good choice to take out on a hike because it will absorb your sweat or if it gets wet from the rain or snow it will stay soaked.
Neck Gaiter
Your next option to keep your face warm is to use a neck gaiter. Neck gaiters are a great way to cover the lower portion of your face and keep the wind off your face. Gaiters are a great lightweight option to keep your face warm. You can get thinner or thicker neck gaiters depending on how cold it is.
Neck gaiters will do a solid job of keeping your face warm, but there are some caveats. The main one is that neck gaiters can feel uncomfortable due to wrapping so closely to your face. There isn't a way to adjust the tightness for your comfort. Another thing about neck gaiters is they can gather moisture from your breath as you are hiking and if the cold win blows that spot may get cold. You can always adjust your neck gaiter throughout the day to avoid this issue.
Top Rated Buff Neck Gaiter on Amazon
Balaclava
The third and a very popular option these days is to wear a balaclava. A balaclava does a fantastic job of keeping your nose, cheeks, ears, and top of your head warm. You end up looking like a ninja on your hike. There are many different types of balaclavas with different material and thickness. Wearing a balaclava will be the warmest option of the three.
There are some things to think about with balaclavas. Balaclavas can feel uncomfortable to wear at first since they are covering almost your entire head other than your eyes. Just like neck gaiters some people can find it a bit uncomfortable to breathe in since they both cover your mouth.
100 Percent Polyester Under Armor Balaclava on Amazon
How do I keep my head warm while hiking in the winter?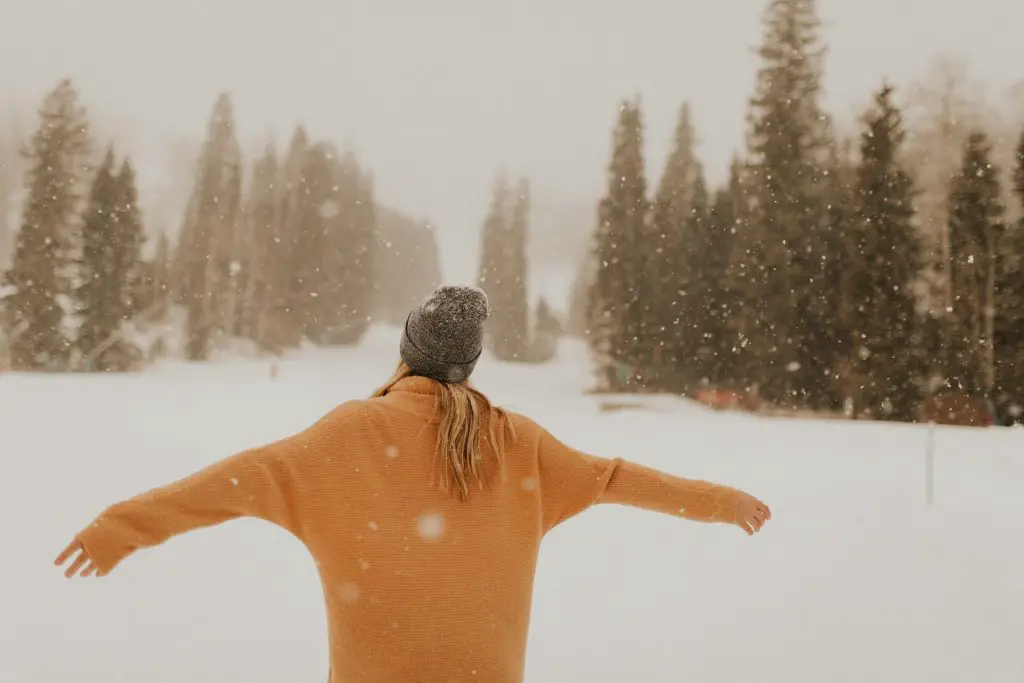 Beanie
There are three main options to keep the top of your head warm during the winter. The first and likely the most popular choice is to wear a comfortable beanie. Beanies will help trap heat released from your head and block the wind from directly hitting your head. Most people own beanies, but there are actually a few things to consider before you wear just any beanie.
The main thing to consider for beanies is the material. You do not want to wear an all cotton beanie. Cotton will absorb and hold all moisture which will cause your head to feel really cold. If the cold wind blows then your head will feel even colder. When picking a beanie look for polyester or wool beanies. These help wick moisture and will keep your head warm.
Top Rated Wool Beanie on Amazon
Balaclava
An alternative to beanies is to wear a balaclava. Balaclavas wrap around your entire head, so the top of your head will also be kept warm. Balaclavas also do a good job of keeping your nose and cheeks warm too.
When buying balaclavas you also want to avoid cotton and get a polyester balaclava. This will help with moisture wicking and keeping your head warm.
100 Percent Polyester Under Armor Balaclava on Amazon
Down Hoody
The third option you have to keep your head warm is a down hood. Down hoods wrap around your head and create a dome to block wind. There are down jackets that have hoods to help protect your head.
Down hoods are great with keeping your head warm, but there is one downside. The main downside of a down hood is that it can feel too warm if you generate a lot of heat. The down hoods aren't as breathable as balaclavas.
Down Jackets with Hoods on Amazon
How to stay warm hiking in winter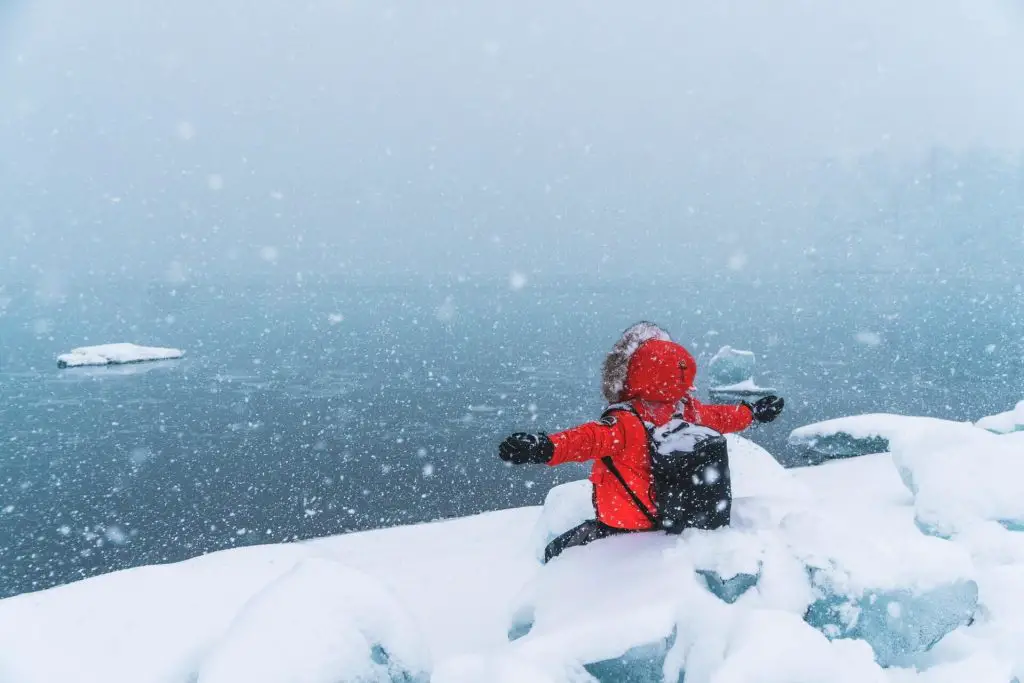 Layering System
Once you have your face and top of your head protected then you can work your way down to protect your body and be warm in the winter. The best way to keep yourself warm is to have a good layering system. You want to have a polyester or wool base layer. A base layer is the shirt that touches your skin. From there, the next layer is the insulation layer. This is the layer that helps you stay the warmest. For this layer get a good fleece jacket or down jacket.
The last layer is the exterior layer. The purpose of this layer is to block your body from the wind and elements. As you are hiking you can add layers or remove layers depending on how you are feeling. Layering systems help you maintain warmth and comfort throughout the day. For pants you can opt for snow pants or hiking pants with an inner layer.
Warmers
We have now gone over the clothing you can wear to stay warm, but sometimes you need a bit of help. If you are still feeling cold you can buy hand, foot, or back warmers. These are a great way to boost morale and feel much warmer. These also help a lot if you are camping as you can put them in your socks and sleeping bag to feel even warmer.
Staying in Motion
The last tip to stay warm in the winter is to stay in motion. Once you stop and take a break that gives the wind an opportunity to hit you and bounce off your sweat. You will feel much colder sitting or standing around as opposed to walking and staying in motion. This is why you feel so cold when you first get out of your car and want to bundle up. As soon as you start hiking you will generate heat and feel much warmer.
Final Thoughts
The cold winds of winter can make you feel uncomfortable if you aren't properly protected. Having a runny nose from the wind is no fun, so covering your face with either a scarf, neck gaiter, or balaclava can get rid off all of your worries and keep your face warm. Once you have your faec taken care of, a good layering system of base layer, down or fleece jacket, and a rain jacket will keep you protected from the elements.
Now that you know what you can wear to keep your face and body warm, you will be able to enjoy your upcoming winter hiking trips. You can try out various options and see what works best for you. Enjoy your next winter hiking trip!
More Helpful Resources