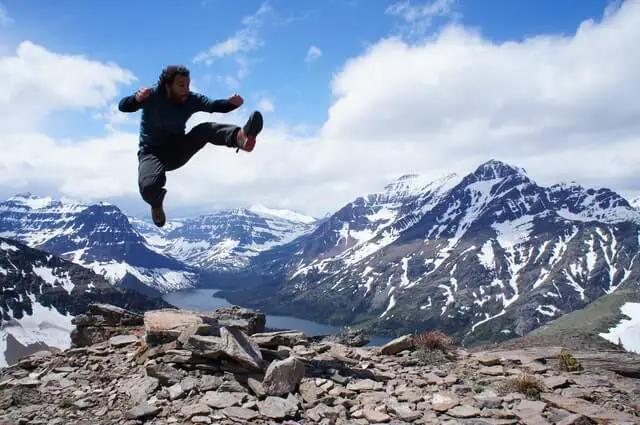 On the Northern border of Montana you can find the grand Glacier National Park. This park features colossal granite peaks, alluring turquoise lakes, an abundance of wild life and hundreds of miles of hiking. The cost to enter Glacier National park varies depending on how you enter:
Individual Vehicle (not commercial): $30
Personal RV (not commercial) :$30
Motorcycle: $25
Pedestrian: $15
The cost to enter Glacier National Park was last updated in June 2018 with a slight increase. 80% of the entrance fee you pay at the entrance station helps Glacier National Park repair and maintain the trails, clean and upkeep the park facilities, improve and expand park programs, and build on historical park projects. The remaining 20% of your entrance fee goes towards helping other national parks.
How many days is the Glacier National Park Entrance Pass valid for?
Once you pay for the park entrance pass, the ranger will hand you a receipt and a park map. The receipt acts as your entrance pass and must be displayed on your dashboard at all times. The entrance pass is good for seven full days. This allows you to enter and exit the park freely for a full week. The seven days is only good for a consecutive seven days as you are not allowed to use the pass periodically.
Can I purchase my Glacier National Park Entrance Pass online?

If you want to be able to buy the Glacier National Park Entrance pass ahead of time, you can buy it online at Recreation.gov. Just search for Glacier National Park and you can pay online. Once you have paid you will receive an email confirmation with an attachment for your park entrance pass. Make sure you print the entrance pass to present to the park ranger as they will not accept electronic copies.
How can I save money on the Glacier National Park entrance fee?
The National Park Service provides visitors with numerous options to save money on the entrance fee for Glacier National Park. You can purchase an America the Beautiful Annual Pass, Senior Passes, Active Duty Military Pass, or the Fourth Grader Pass. These are all fantastic options to help you save money.
America the Beautiful Annual Pass: $80
The first option that is the most commonly accessible is the America the Beautiful Pass. This annual pass costs $80 and allows pass holders to enter any national park and federal lands for free in a twelve month span. This pass is a great option for those of you looking to visit multiple national parks within twelve months. This pass is a must buy if you are planning to visit at least three national parks as you will save $10 on entrance costs alone. You can obtain one of these passes at the Glacier National Park entrance station where you will be handed a physical card that you can present at all national park entrance stations.
Senior Passes: $60 or $20
An alternative pass available for seniors only are the Senior Lifetime pass and Senior Annual Pass. The Senior lifetime pass costs $60 and allows those 65 years and older to enter national parks completely for free for the rest of their lives. This is an awesome choice for those looking to visit many national parks throughout the years. Another option for seniors is the annual pass at just $20. This pass allows seniors to enter any national park or federal lands for free within a twelve month time frame.
Active Duty Military Pass: Free
For those of you in active duty in the US military the National Park Service provides you with a free annual pass. This annual pass allows you to enter all national parks and federal lands at no cost. To obtain this pass you just need to present your active duty US military badge to a park ranger at an entrance station. This pass is only valid for a full twelve months, once it expires and if you are still in active duty, just present your current badge to receive a new one.
Fourth Grader Annual Pass: Free
And for those parents of a fourth grader, you are in luck. The National Park Service has a program called Every Kid Outdoors which provides all fourth graders from the United States with a free annual pass for all national Parks. To get this pass you just need to sign up for an annual pass at EveryKidOutdoors.gov. You just sign up there and print out your annual pass to present to a park ranger at the entrance station and you're good to go.
Are there ever any days where its free to enter Glacier National Park?
The National Park Service celebrates various holidays or historical events by having fee free days for all national park visitors! There are days of celebration for national parks.
Martin Luther King Jr Birthday on January 20th
1st day of National Park Week on April 18
Great American Outdoors Act Passage Celebration on August 5
National Park Service's Birthday on August 25
National Public Lands Day on September 26th
Veterans Day on November 11th
Summary
Glacier National Park takes visitors to the shores of beautiful glacier lakes, to the tops of massive granite peaks, through gorgeous green forests, and up close and personal with amazing wildlife. This national park is well worth the entrance fee and is an absolute must visit. The memories and sights you will see will be paid back in full during your visit!