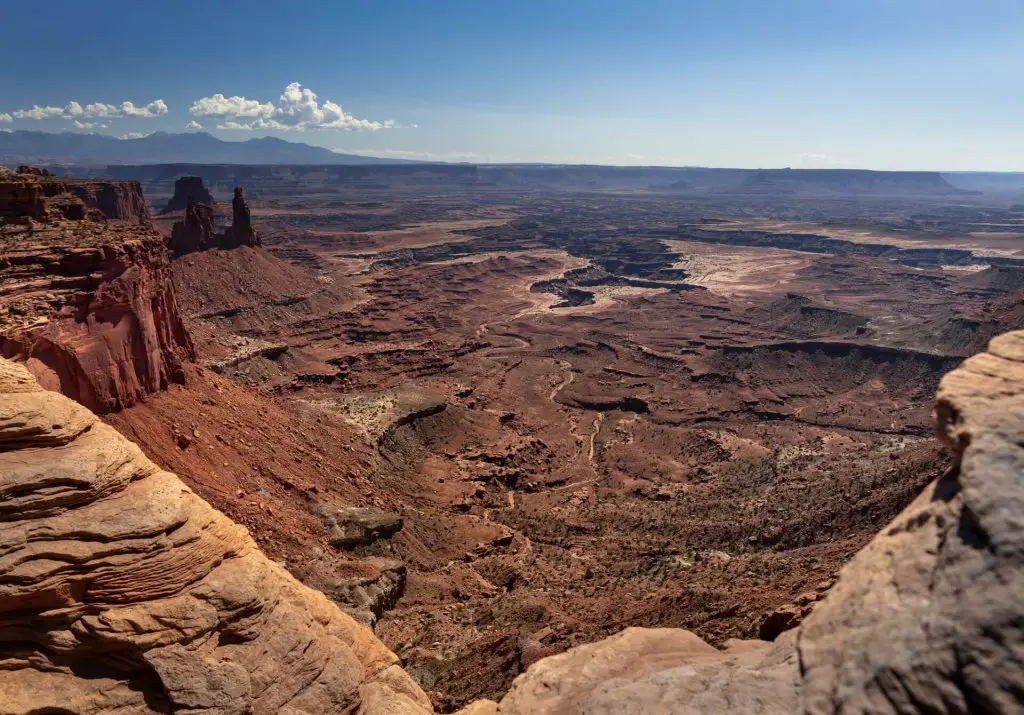 As of June 2018, the cost for the park entrance fee for Canyonlands National park is as follows:
Per Private Vehicles Fee: $30
Per Motorcycle Fee: $25
Per RVs: : $30
Per Person (no car, bicylists, hikers, pedestrians) : $15
The fee was increased in June of 2018 in order to assist with park infrastructure and maintenance needs. 80 percent of your entrance fee stays in Canyonlands National Park and the other 20 percent goes towards other national park projects. The money goes towards helping hiking trails, roads, updating their park exhibits, and much more.
Canyonlands National Park features gorgeous vistas of deep canyons spanning on as far as the eye can see. The entrance fee is well worth it as you will be able to walk along the canyon cliff edges, see views of the rivers carving their way through the beautiful canyons, and get panoramic views of the majestic canyonlands.
How long is the entrance fee good for?
Once you pay the ranger at the fee station at the park entrance, you will be handed a receipt and a park map. The receipt is valid for seven full days allowing you to go in and out of the park without having to pay again.
Are there any discounts for the Canyonlands National Park fee?
There are actually a few ways you can save money on the park entrance fee! You can buy the America the Beautiful Annual Park Pass, get a pass if you are active military, have a fourth grader sign-up for a free pass, buy a senior lifetime or annual pass, or visit the park on a fee free day!
America the Beautiful Annual Park Pass : $80
The National Park Service offers an $80 annual pass that is valid for 12 months. This pass allows for the pass owner and all passengers in a single non-commercial personal vehicle. This park allows you to visit all national park and federal lands for just $80 for an entire year! If you visit just three national parks you will have saved yourself $10. This pass is great if you are planning many trips to national parks within the same year!
Active Military Annual Pass: Free
For those of you in the military or that have a friend or family in the military, you are eligible to get an annual national park pass for free. If you show your active military id to the park ranger to Canyonlands National Park entrance then you can get in for free!
Fourth Grader Annual Pass: Free
The National Park Service and Every Kid Outdoors organization have teamed up to create a free annual pass specifically for fourth graders. This pass helps to create inspiration for the love of the outdoors for the next generation. All you need to do is sign up for a pass at www.Everykidoutdoors.gov and print out the form to show to the ranger. Keep in mind that the ranger will not accept electronic copies of the pass!
Fee Free Days: Free
The National Park system has various days throughout the year where they do not charge a fee to enter the park. That's right they have completely fee free days for park visitors. This helps attract millions of visitors to the park. You can just drive right through the park entrance without having to pay a dime. Here are the days that are fee free:
Martin Luther King Day – Jan 18, 2021
Start of National Park Week / & National Junior Ranger Day – April 15, 2021
Great American Outdoors Day – August 4, 2021
National Park Service Birthday – August 25, 2021
National Public Lands Day – September 25, 2021
Veterans Day – Nov 11, 2021
Senior Lifetime or Annual Park Pass: $80 (lifetime) or $20 (annual pass)
Seniors get a great benefit from the National Park Service with a life time pass for just $80 or an annual pass at $20. These passes offer fantastic value for seniors and more than pay for themselves immediately. You can purchase the senior passes right at the entry station!
Do I still need to pay the entrance fee if I am only there for a few hours?
Unfortunately you do need to pay the park entrance fee, regardless if you're there for 1 hour or the full seven days. The park entrance fee helps the mark with park maintenance, projects, and programs. You will be able to see the gorgeous Canyonland lanscapes and use the parks facilities during your visit.