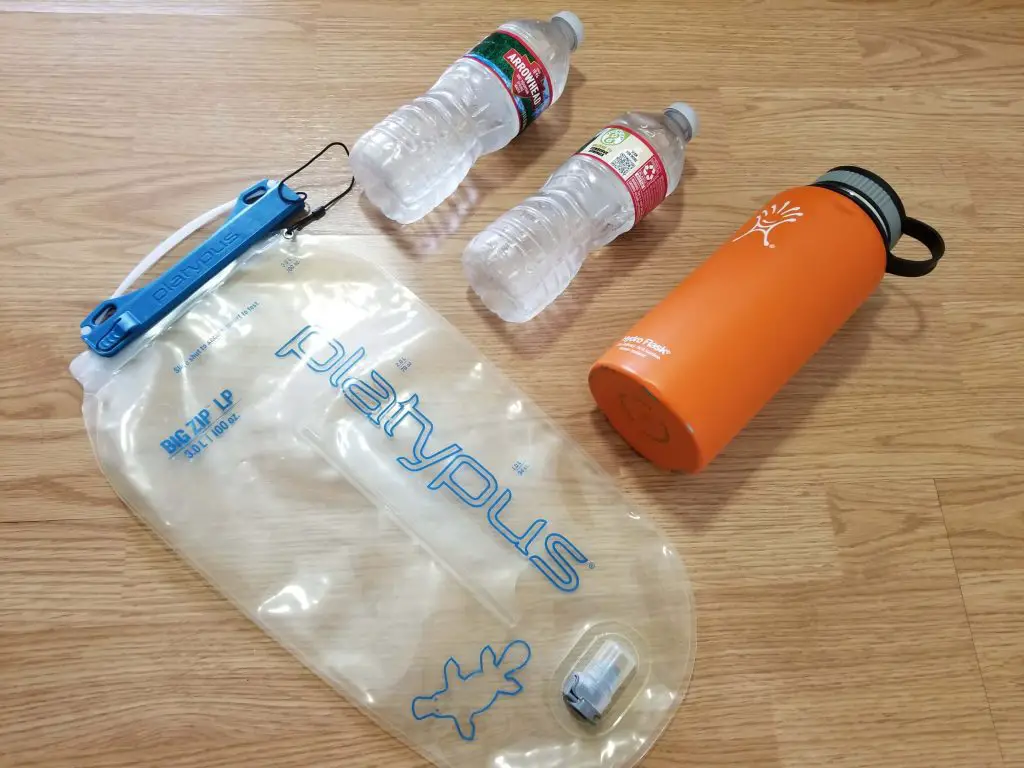 When you're taking a break on the hiking trail. nothing tastes better than ice cold water. Grabbing your bottle towards the end of the hike and drinking warm water just isn't the same. Carrying that cold bottle of water from the fridge on your hike only lasts so long, so how do you keep your water cold during your entire hike?
To keep your water cold on your hike you can add ice to a hydration bladder, carry an insulated water bottle, or freeze bottles of water before your trip. These three options will have you drinking ice cold water throughout your next hike.
Having cold water on your hike is very important as it will allow you to cool down, stay hydrated, and most important continue to crave your next drink. Taking drinks of warm water just doesn't have the same effect after a few hours on the trail. I used to go on hikes and got used to drinking warm water from my pack, but it wasn't until more experienced hikers showed me how they were keeping their water completely cold. There are pros and cons to the three methods that you should think about that can impact the comfort and ease of your next hike.
Three Ways You Can Keep Your Water Cold While Hiking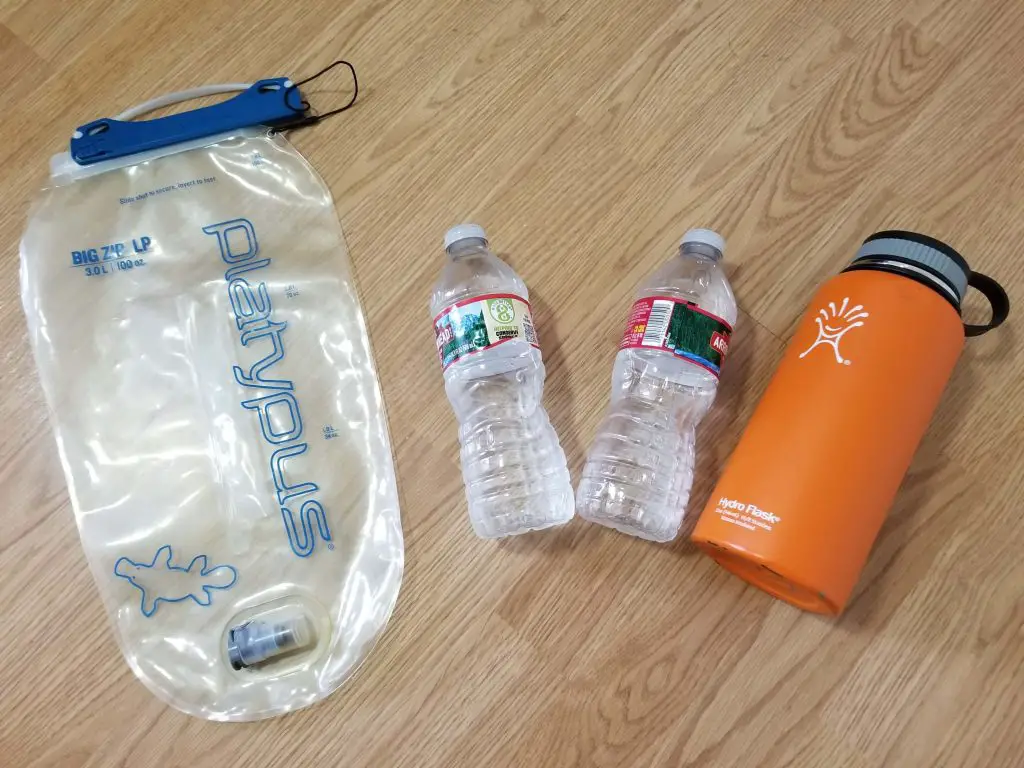 Hydration Bladder
Your first option of keeping your water cold is to use a hydration bladder. You can either fill it up by half and freeze it or add a bunch of ice. Either method will work and help you keep your water cool throughout your hike. Your water will be well insulated inside your pack and being inside the hydration bladder. This will help keep the outside heat out and maintain a relatively cold temperature. This is a quick and easy to way have a large amount of cold water available throughout your hike. I've tried this method many times over the years and have enjoyed the cold water on my hikes.
Pros and Cons
Using a hydration bladder for cold water has a few trade offs. The first benefit is that you can bring either two or three liters of cold water depending on the size of your hydration bladder. Another benefit of using a hydration bladder is that you will only be taking up the area against your back inside your pack leaving you room for other items. The third benefit and one of the main benefits of hydration bladders is the convenience it provides to drink. You can drink cold water from the valve without having to open your pack or a bottle. This will help you drink more frequently and on the go.
There are some downsides to using a hydration bladder for cold water. The first and main thing is that since the hydration bladder itself isn't insulated it will lose its cold temperature much faster than your other option. Don't get me wrong you will likely have pretty cold water during your day hikes, but anything overnight and your water will likely warm up after a day. Another con of using a hydration bladder is that any water in the main hose will warm up quickly since it is exposed to the sun. These minor cons aren't deal breakers and using a hydration bladder with ice cold water will get the job done.
What to look for in a Hydration Bladder
If you're thinking about buying a hydration bladder or maybe upgrading there are a few things to think about. The first thing you should look at is the volume and form factor. The newer hydration bladders offer a wide mouth opening and quick release hose. The wide mouth opening makes it much easier to clean the inside of your hydration bladder after a trip. The quick release hose makes for easy storage and easy clean-up.
Another thing to look at is reviews to see if people experience a plastic taste or have experienced leaks. I have used the Platypus brand for years and have not had any plastic taste or leaks. My hydration bladders have lasted for years and I have also recommended them to my friends without any issues.
Platypus Big Zip EVO Reservoir on Amazon
Insulated Bottle
Your second option to keep your water ice cold on your next hike is to use an insulated bottle. The design of insulated bottles helps you keep cold drinks cold for hours. You can fill up your insulated bottle with ice and water and you will likely still have a few ice cubes at the end of your day hike. This is one of the best choices to bring so you can have ice cold water to drink throughout your entire hike. I've always brought an insulated bottle on my hot summer hikes to have a thirst quenching drink of ice cold water.
Pros and Cons
While using an insulated bottle to keep your water cold is a great choice, there are some things to think about. The main pro of using an insulated bottle is your water will be cold from the start of your hike all the way to the end. The design of most insulated bottles does a fantastic job of maintaining a consistent temperature. The next pro for insulated bottles is that they are easy to use and easy to clean. Once you are done with your hike it is easy to wash your bottle and dry it for next use.
The biggest con for using insulated bottles to help keep water cold is the limiting sizes. If you want to carry one liter of cold water then you will either have to carry multiple bottles or a very large insulated bottle. Another downside of insulated bottles is the extra weight you have to carry to bring cold water. The third con of insulated bottles is that it is slightly inconvenient to use them as you have to take off your backpack and open it to get the bottle and drink.
What to look for in an Insulated Bottle
Most insulated water bottles are the same these days but there are a few small things you should look for. The first thing you should look for is to see if there are reviews on leaks. Some bottles do not have a good seal and easily leak water. If you plan on using your insulated bottle on a daily basis another thing you should check is if the bottle has a rubber base or rubber bottom. Having a rubber bottom makes it slip resistant so it does not get tipped over easily and it makes it much quieter when you place it down on a table or countertop.
My go-to insulated bottles has been Hydroflask. I have a 16 ounce bottle and 32 ounce bottle. When I go on hikes I bring my 32 ounce bottle to have even more cold water on my hikes. I haven't had any issues with leaks and my cold water stays ice cold during my entire day hikes.
32oz Hydro Flask Wide Mouth Straw Lid on Amazon
Water Bottles
If you don't have a hydration bladder or insulated bottle then your third option is to bring partially frozen water bottles. You can freeze about 80 percent of a water bottle overnight and fill the remaining 15% with water. This will help you have cold water throughout your hike. This is the most cost effective way to bring cold water on your hike and what I started doing before I bought any gear.  My favorite bottle is the one liter Smart Water bottles since they are slim and carry a large amount of water. This is a great and easy choice if you are on a budget.
Pros and Cons
Although using frozen water bottles may be a budget friendly option and it gets the job done, there are some pros and cons. The first pro is that this is very easy to do, just freeze water and bring it along on your trip. You don't need to buy any ice. Another pro is you don't need to buy any new gear and just need to buy some bottles of water. You can find 1 or 2 liter bottles of water and have a large volume of cold water on your hike.
There are a few main drawbacks of using frozen bottles of water. The biggest con is the frozen bottles is the amount of condensation they will produce. Anything in your pack will likely get wet from the condensation as the bottles warm-up throughout your hike. Another downside of frozen bottles is that if you place them on the side pouch of your pack they will warm up quickly as they are not insulated. Frozen water bottles will definitely not last overnight as you will have warm water by the end of the night. This is the most cost effective way and will get you cold water during most of your hike.
Final Thoughts
Bringing cold water and expecting a nice cold sip of water only to get luke-warm water is such a sad feeling. Now you will be able to stop, take a break, and drink ice cold water. The difference of having cold water is a huge morale booster during tough hikes or hot days out on the trail. The refreshing feeling from cold water gives you hydration and a much needed energy boost. Now you know you have three options to bring cold water from a hydration bladder, insulated water bottle, or frozen water bottles.
Try out various each way during your next trips and see what works for you. I like to do a mix of hydration bladder and insulated bottle so I can have both cold water and ice cold Gatorade. The combination of both on a hot hike helps keep me going. Enjoy your next hike with ice cold water!
More Helpful Resources