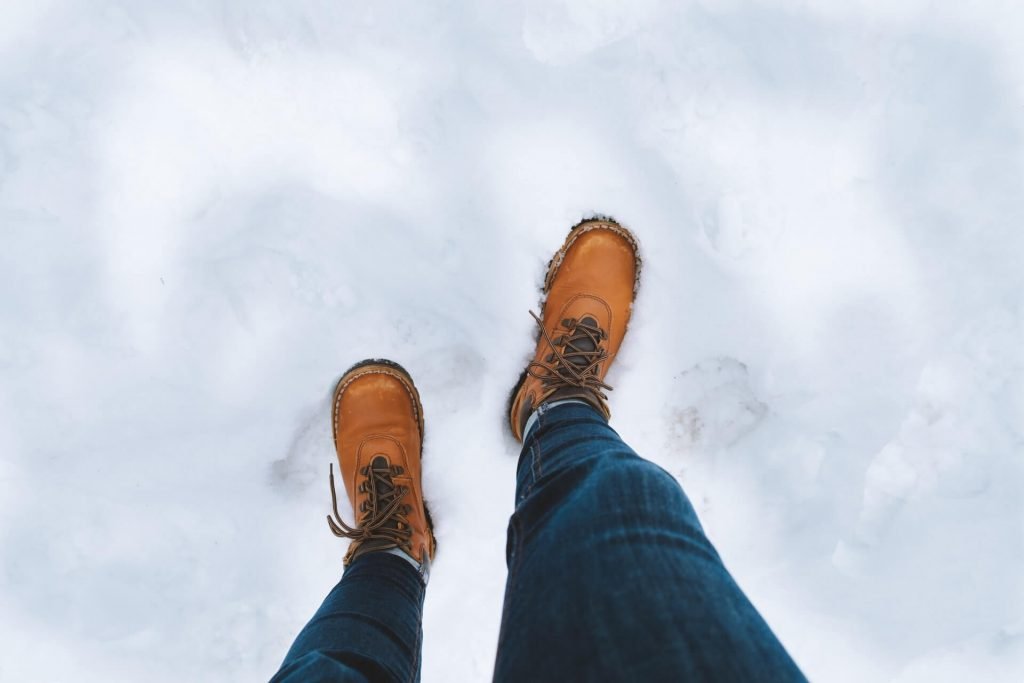 You probably have an upcoming hiking trip that involves snow and are wondering if your hiking boots will be effective in the snow. After all, hiking boots are some of the sturdiest shoes that protect your feet in the deserts, mountains, and canyons, so shouldn't they also work in the snow?
There are many factors to consider to determine if your hiking boots will work in the snow, but the short answer is that if there are less than two inches of snow then your hiking boots will work just fine, however, if there is snow deeper than three inches then you will need to get winter hiking boots.
If you want to keep your feet dry, warm, and be able to comfortably hike in the snow then there are a few things you should consider before buying boots that will work in deep snow.
Are hiking boots good for snow and ice?
Although hiking boots are designed to offer you protection against the elements, they are not well suited for deep snow. Regular hiking boots primarily are made to help hikers have good stability, good grip, and ankle protection. The things that they don't help are keeping your feet warm, keeping water and snow out, or providing traction on snow or icy ground.
The moment your boots step in deep snow and you are post-holing you will likely start to feel very uncomfortable. Despite your hiking boots being rated as water-proof, snow will eventually soak into your regular hiking boots and get to your socks. This is dangerous as you can potentially get frostbite or bad blisters. As you continue to hike your feet will already be cold due to the lack of insulation and they will be wet, this is a recipe for disaster.
If you are hiking on the icy ground with regular hiking boots it can be incredibly dangerous to make your way along the trail, especially if you are high up on the side of a mountain. Since regular hiking shoes only offer traction for dry environments, then you will need traction devices to help you stay upright and stable.
Your best bet if you will be hiking in deeper snow is to look into winter hiking boots. These boots are made to protect against the harshest winter environments. Hiking boots and winter hiking boots have some important distinctions, lets go over key considerations you should think about before you buy your winter hiking boots.
What to look for when picking boots for the snow
Insulation
When shopping for winter hiking boots, one of the most important things is to see how much insulation the boot provides. By knowing how much insulation provides for the pair of boots you will be able to easily compare boots from different brands. This will make it easier as the various brands will market the same features with different names, but keeping your feet warm is the most important feature.
Temperature Rating
Another thing to watch out for is the temperature rating of the boots. You will be able to gauge how warm your feet will be kept based on the temperature rating. However this rating is not consistent throughout different brands, so rely on user reviews and compare insulation ratings before making a final decision.
Gusseted tongue
The last and one of the most important things to look out for is if the boot has a gusseted tongue. All this means is that the tongue of the shoe is sewn into the body of the shoe so there are no gaps between the shoe's tongue and the shoe's body. Having this seal will prevent snow from getting into your hiking boots. If you've ever gotten water or random rocks into your regular hiking boots from the front of the shoe, it is because it does not have a gusseted tongue that seals things out.
These three key things are the most important things to check for when you are shopping for your winter hiking boots. These were new to me when going from my regular hiking boots to my winter hiking boots. When you look at winter hiking boots they seem much more rigid than regular hiking boots, there are a few things you should do to make sure you are comfortable in your winter boots.
How to Make Sure Your Winter Hiking Boots are Comfortable
When you first get your winter hiking boots they can feel very tough and rigid on your feet. You do not want to have this feeling on your winter hike as you can feel very uncomfortable or even get blisters.
The most important thing you want to do is break in your winter hiking boots before you need them. Unfortunately, this means you should take them out on a couple of hikes in the off-season. Your feet will feel incredibly warm, so try to hike on a cooler day. The sacrifice of sweaty feet during the off-season will pay huge dividends in the winter as your boots will be contoured to your feet and fit like a glove.
Winter hiking boots should fit snugly with enough extra space for your toes to wiggle around. They should not feel too tough against your feet. They should also keep your feet warm despite the colder outside temperatures.
How do you keep snow from getting in your boots?
You've done all this research and you picked the perfect winter hiking boots, but dam it some snow just got in your boots. Despite all of your efforts to keep your feet warm and dry, it's now wet, so how can you keep snow out of your shoes?
Snow can sneak its way into your shoes despite all of your efforts, however, there is a way to keep it out. The first thing to do is make sure your boots are tightened and that your long pant legs cover the top opening of your shoes. The next thing to do is to get gaiters. Gaiters are a lifesaver as they act as a protective layer to prevent snow or rocks from entering your boots.
Before I knew gaiters existed I would just hike and have gravel or snow enter my boots. This made for a very uncomfortable hike where I had to stop and loosen up my boots or take them off in order to remove the snow or gravel. Buying gaiters allow me to hike without having to think about what is going to enter my boots!
While gaiters are incredibly useful and help, there are also a few other things you should consider picking up for your feet in order to help you on your winter hike.
Other accessories to buy to help keep your feet warm in the winter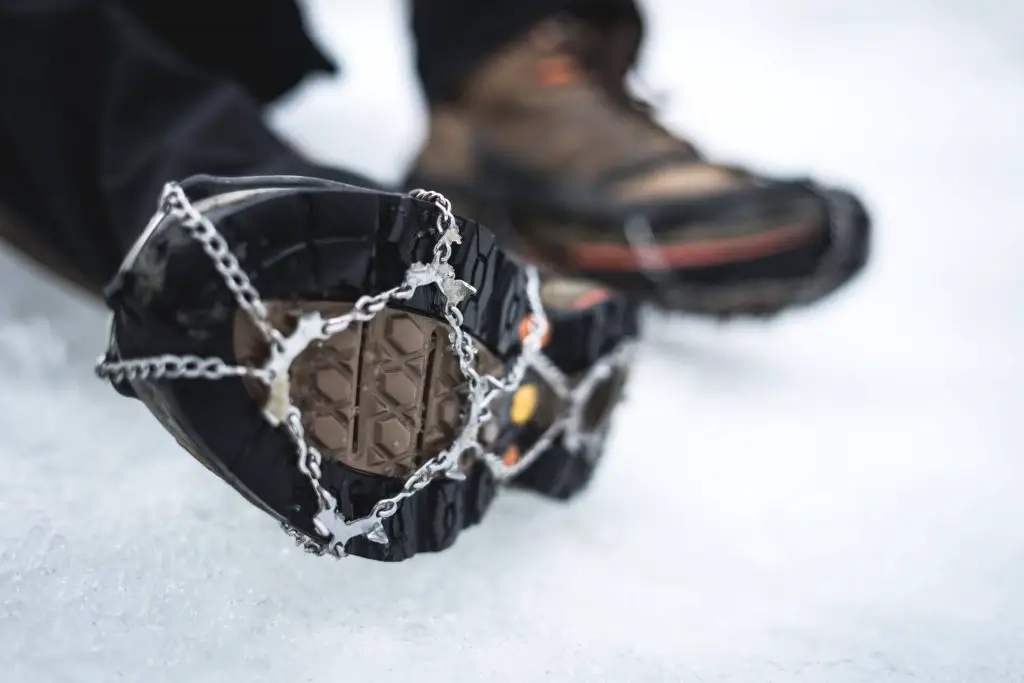 Once you get to this stage you will have a great pair of winter hiking boots and a set of gaiters to prevent the darn snow from getting in, but there's some other useful gear that can make your hike much easier.
Traction Devices
If there is any chance of ice on the trail then you should look into buying either microspikes or crampons. Microspikes are like tire chains for your boots, they wrap to the bottom and allow you to dig into the ice as you walk. Crampons are similar except they are much spikier and offer deeper spikes for those that are looking into mountaineering.
Wool Socks
Something that may be overlooked is the type of socks you wear. Typically most hikers will wear either cotton or polyester socks, however, there is a better option which is wool socks. Wool socks will be much thicker, thus keeping your feet even warmer. Another great benefit of wool socks is that if they get wet, they will dry much quicker. They do a much better job of insulating your feet from any water.
Snowshoes
If you plan on traversing snowfields where the potential for deep snow is likely then you should definitely look into snowshoes. Snowshoes strap onto your hiking boots similar to a tennis racket. They prevent you from falling into the snow too deeply. This will allow you to hike faster and not get stuck in the snow as easily.