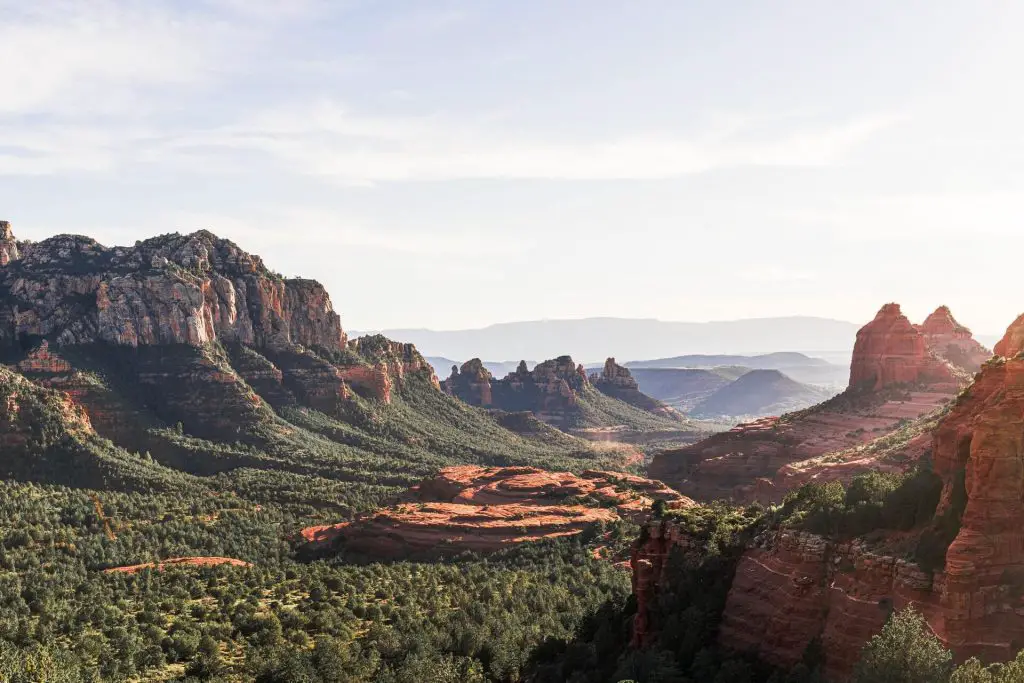 Sedona has numerous hiking trails to transport you out of the city and right into the desert wilderness. These hikes will take you up along the mountain side to sweeping views of the red desert, up to massive caves revealing a window to the desert vistas, into red rock canyons, and even onto the Devil's Bridge. There are many fantastic outside adventures in Sedona, Arizona, but I've helped you narrow down the list to the top 8 easy and short hikes in Sedona that you absolutely should not miss! This list consists of hikes under 5 miles in Sedona that you can easily do during your trip.
Devil's Bridge – 4.2 miles (out and back)
Soldier's Pass Trail – 4.1 miles (out and back)
Fay Canyon Trail – 2.6 miles (out and back)
Doe Mountain Trail – 1.5 miles (out and back)
Little Horse Trail – 4.3 miles (out and back)
Cathedral Rock – 1.2 miles (out and back)
Birthing Cave – 2.0 miles (out and back)
Big Park to Bell Rock Pathway Loop – 4.0 miles (loop)
Sedona, Arizona Overview
Situated in the Central Arizona desert lies Sedona, Arizona, home to Red Rock State Park. A city surrounded by beautiful steep red rock canyon walls, crimson mountain tops, and alluring pine forests, Sedona is absolutely breathtaking. Known for its vibrant art scene, Sedona Arizona also serves as an outdoor getaway for those seeking to find adventure in a desert oasis. This small desert town attracts on average 3 million visitors per year for its remarkable outdoor landscape. This city offers many amazing views, hiking adventures, and much more!
Devil's Bridge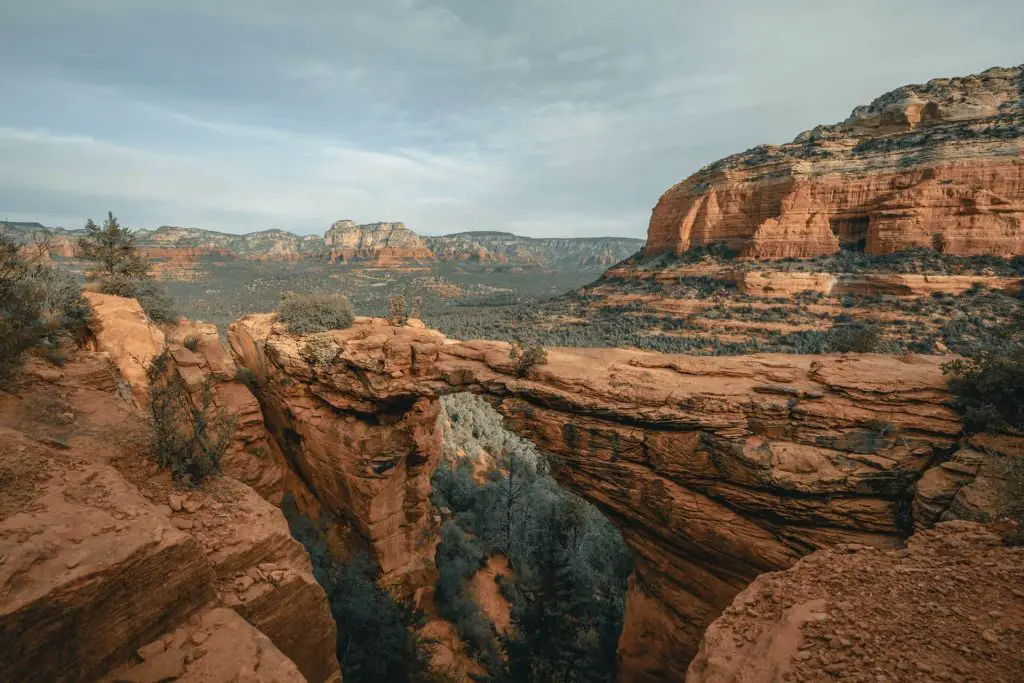 Distance: 4.2 miles (out and back)
Elevation gain: 564 feet
Difficulty: Moderate
Duration: 2.5 hours
Trailhead: https://goo.gl/maps/gS6BsaN7f2ukNEyp7
Trail description:
Devil's Bridge trail takes you from the base of the desert to the top of a natural stone bridge that's 45 feet long. Starting from the 4×4 dirt road, the trail is relatively flat and straight forward. Once you reach the actual start of the hike, its just 1.3 miles to the natural bridge. From here the well established trail takes you through a pine forest, and up some stone steps to a beautiful viewpoint.
Once you've stopped at the viewpoint, a short climb up a series of stone steps will lead you to a path that hugs the mountainside. Fear not as the path is pretty wide and leads to the Devil's Bridge. The Bridge will be on to the left just off the side. The natural bridge
Keep in mind: The dirt road at the start of the hike is for 4×4 vehicles only and can get incredibly muddy if it rains. You'll likely see jeep rental companies driving through the trail as you hike to the start. When you reach the Devil's Bridge, you'll unfortunately know you're there because of the long line of people. I recommend hiking this trail early and during the off-season outside of Summer.
Soldier's Pass Trail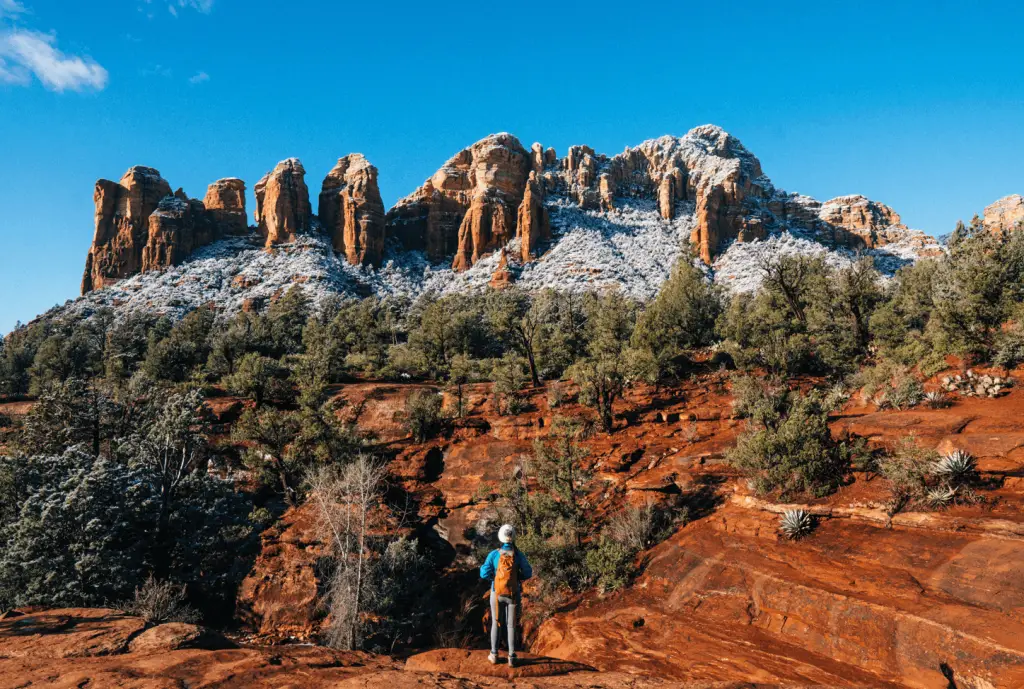 Distance: 4.1 miles (out and back)
Elevation gain: 620 feet
Difficulty: Moderate
Duration: 2.5 hours
Trailhead: https://goo.gl/maps/NCdKNidMUH7Gnug57
Trail description:
Soldier's Pass Trail features a massive sinkhole, Seven Sacred Pools, gorgeous views of red rock spires, a window to an amazing view, and a hidden cave. This well established trail brings you through the red rocks, along a small stream, and up the hill to the Soldier Pass Cave.
The cave requires a bit of scrambling through a narrow opening. Once you're in the cave, you'll see just how grand it is inside. Looking around to your left there will be a large window and a rock ledge, perfect to sit and enjoy the beautiful scenic views of the Sedona mountains and the surrounding desert.
Keep in mind: This hike is very popular, so the trail can get quite crowded, so I recommend hiking it early to avoid the crowds. The Soldier Pass cave is off the trail, you'll want to look for a path to the right off the trail that heads towards the massive rock that holds the cave.
Getting up into the cave can be a bit tricky as you're basically climbing up about a 5 or 6 foot wall to get up and in. You can actually walk along the ledge and a bit deeper into the cave for more alternative views. This trail has minimal sun cover with a few trees scattered throughout, so be sure to bring enough sun protection.
Fay Canyon Trail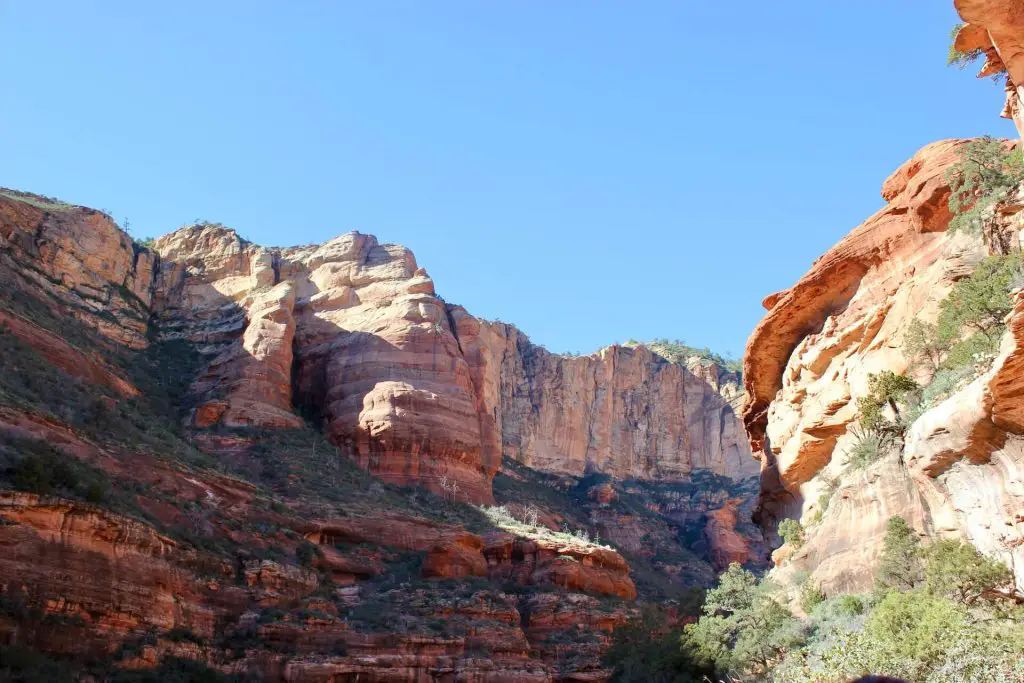 Distance: 2.6 miles (out and back)
Elevation gain: 385 feet
Difficulty: Easy
Duration: 1 hour 30 minutes
Trailhead: https://goo.gl/maps/qYohjFEvZ3ED3vNN8
Trail description:
This trail features scenic views of the Red Rock State Park Mountains sprinkled with pine trees in the distance. This well marked trail takes hikers through the desert mountains and into Fay Canyon with its towering red canyon walls.
At the end of the hike you can continue to scramble up on the rocks to get a higher vantage point. From here you can see an opening between the red rock walls that perfectly frames the surrounding landscape. If you continue up and keep scrambling, there is also another viewpoint from higher up. These beautiful views are well worth the hike.
Keep in mind: The end of the hike is a bit disappointing if you don't continue to scramble up as it just abruptly ends deep in the canyon with large boulders and fallen brush. Heading up the rocks for the scramble is simple and straight forward as the rocks aren't too sloped. This is a well shaded hike as you're hiking through the pine forest and next to giant canyon walls.
Doe Mountain Trail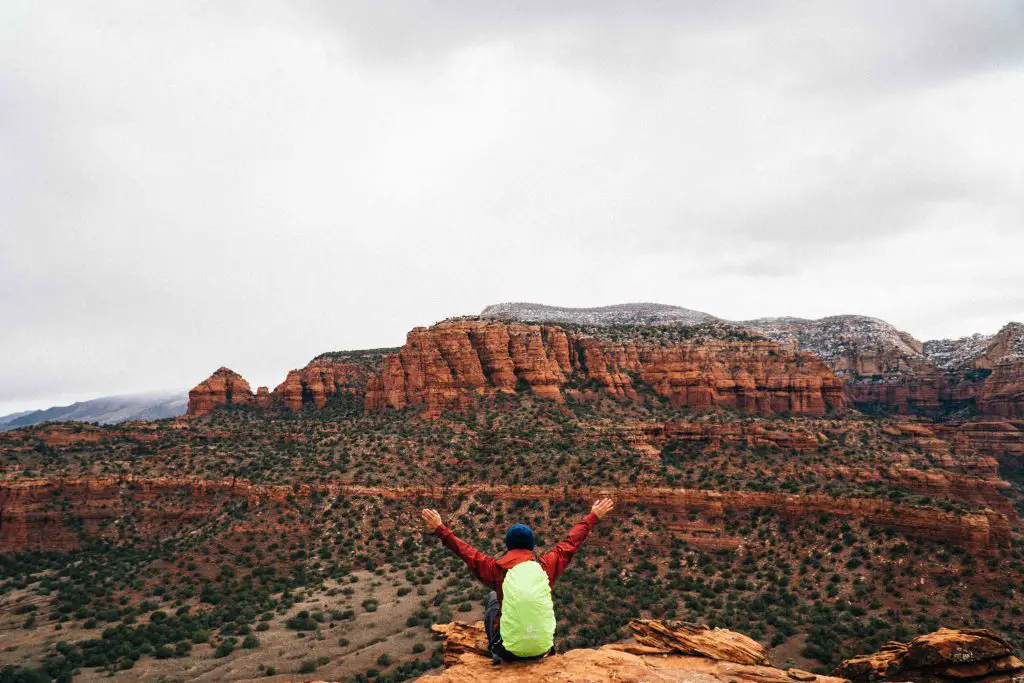 Distance: 1.5 miles (out and back)
Elevation gain: 492 feet
Difficulty: Easy
Duration: 1 hour
Trailhead: https://goo.gl/maps/wB5wCmAx8q3Btb6D8
Trail description:
Doe Mountain trail is one of the most underrated hikes in Sedona Arizona. This hike features panoramic views of the gorgeous Sedona desert and mountains. This is a well established trail that takes hikers gradually up a series of switchbacks to lead to the top of Doe Mountain. At the top of Doe Mountain, you can walk along the edge to get sweeping views of the beautiful red mountains. This short hike is well worth the trek as its effort to awesome view ratio is very rewarding. The views are absolutely breathtaking!
Keep in mind: Although there is 492 feet of elevation gain in under 1 mile, the gain is pretty moderate as it is spread out throughout the various switchbacks. This is a hidden gem and when I hiked it there weren't that many other hikers on the trail.
Little Horse Trail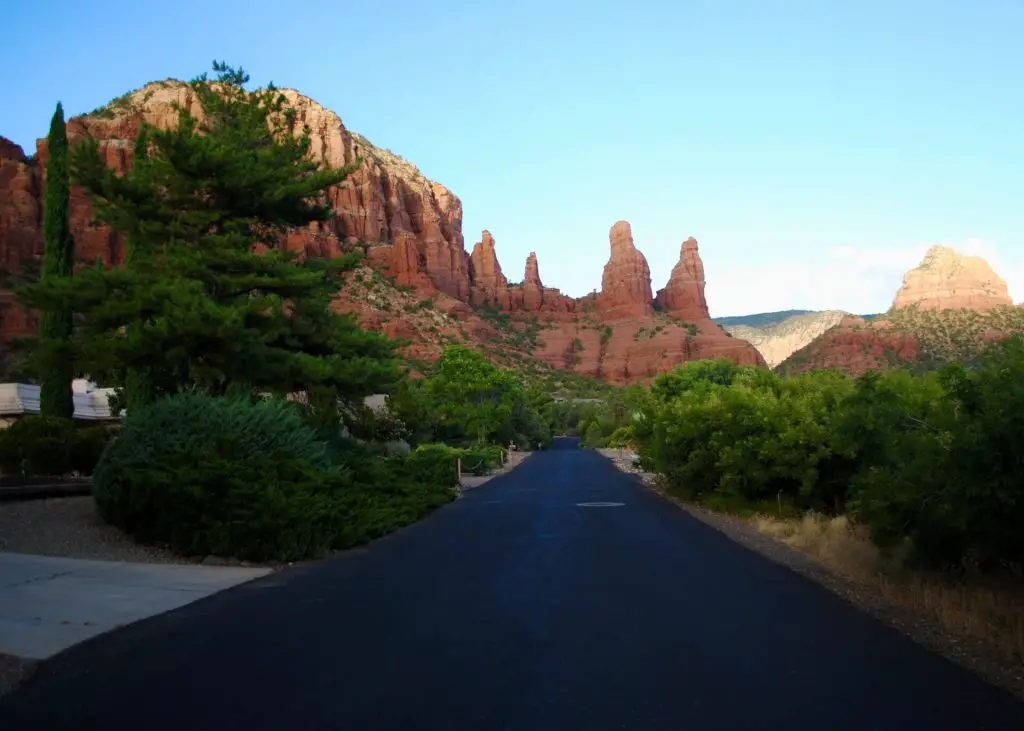 Distance: 4.3 miles (out and back)
Elevation gain: 564 feet
Difficulty: Easy
Duration: 2 hours
Trailhead: https://goo.gl/maps/AhbtiQp6rXwidoC87
Trail description:
Little Horse Trail features glorious scenery all along the trail. As you hike your way on this well established trail you will be able to get up close and personal with the red rocks of Sedona and views of the Holy Cross. This moderate hike reviews hikers with near panoramic views of the entire valley once you reach Chicken Point. This hike is well worth it and offers fantastic views during the hike with a gem of a view at the end. You should definitely add Little Horse Trail as one of the best hikes in Sedona.
Keep in mind: This hike has very little shade, so bring a hat and some sun block to help protect you from the sun. The trail is relatively flat during most of the hike with a few scrambling spots that you need to clear about three to four feet worth of large rocks. There are also many off trail options to other areas.
Cathedral Rock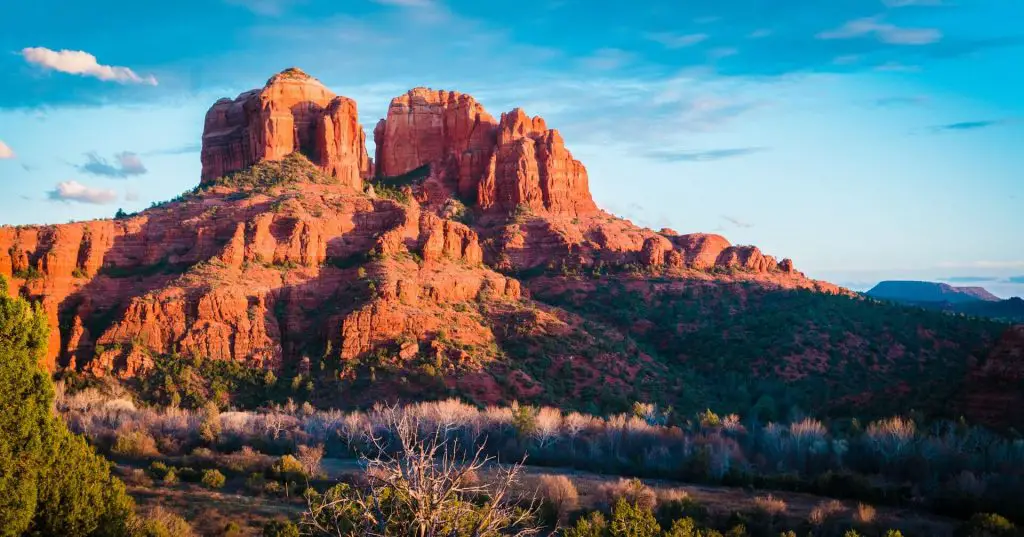 Distance: 1.2 miles (out and back)
Elevation gain: 744 feet
Difficulty: Moderate
Duration: 1 hour
Trailhead: https://goo.gl/maps/ir6C9DyjkZoK6gNn9
Trail description:
This hike features marvelous views of the widespread desert landscape. This well established and busy trail takes you on a dirt path and up sandstone rocks as you make your way up to Cathedral Rock view points. The start of the hike is easy on a dirt path up some stone steps,however there is a part where there is about a 45 degree incline on a rocky crevace where you'll likely need to scramble and crawl your way up depending on how brave you are!
Once you clear this area you reach a plateau with remarkable scenic views of the pine forests and the red rocks in the distance. From here its just a short hike up to massive red rock canyon walls that lead to an alluring opening. The view from here is just breath-taking. This is one of my favorite hikes in Sedona that has a good mixture of adventurous rock scrambling and amazing views.
Keep in mind: The parking for this hike can be tricky as there is a tiny parking lot enough for 20 cars, however the demand for this hike is outweighs the available space so you'll have to drive back and forth along a 2 lane wide road until a spot opens. I had to park about 5 minutes away from the trailhead after driving around for some time, so I recommend going earlier to beat the crowds! The trickiest part of this hike is the scramble on the rocky slope, but you can do it easily if you go slowly, the hard part is the pressure of others waiting on you!
Birthing Cave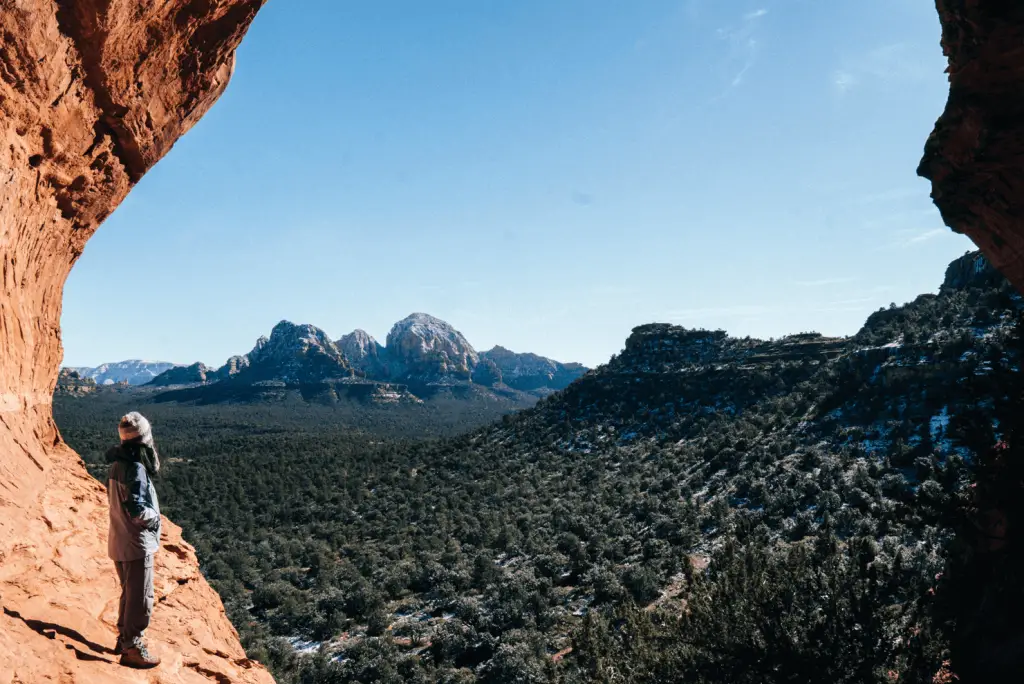 Distance: 2.0 miles (out and back)
Elevation gain: 300 ft
Difficulty: Easy
Duration: 1.5 hours
Trailhead: https://goo.gl/maps/XRfk9jaVDE2nm7tZ6
Trail description:
This short hike on Birthing Cave trail leads you right to a massive cave right in the heart of Sedona. The trail is very flat and easy to follow, with the exception of the turn off the trail to find the path to the cave. The turn occurs about 0.6 miles from the trailhead as you have to veer off the main trail on the left. This spot is marked by a large branch and bushes. You should be able to notice a bunch of footprints going off in that direction. As you continue on watch out for a huge depression in the red canyon walls up above. That is where the cave is located. Once there you'll scramble up a few short switchbacks and see the massive opening. The views here are spectacular and provide a perfect window out to the spectacular scenic views of the desert.
Keep in mind: The trail has very little sun cover and it is really easy to miss the left turn off the main trail. Be mindful of your path and be sure to use a GPS since you are going off the trail. The journey to the cave is well worth it as the views are magnificent!
Big Park to Bell Rock Pathway Loop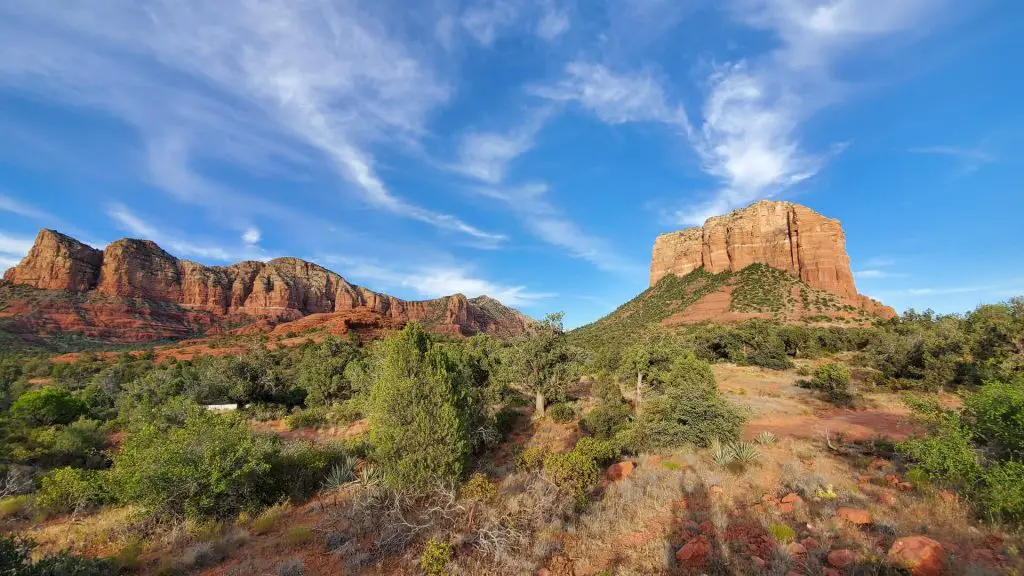 Distance: 4.0 miles
Elevation gain: 377 feet
Difficulty: Moderate
Duration: 2 hours
Trailhead: https://goo.gl/maps/8o1vXjGThxaG13Sm9
Trail description:
This loop hike takes hikers on a well established sandstone trail to Bell Rock. This hike features remarkable views throughout the hike of the beautiful desert and pine forest and gets you in between the Courthouse Butte formation and the Bell Rock formation. The views on this hike are absolutely outstanding. The end of this hike features rock scrambles and a more ambiguous trail. There are multiple ways to get up, but two official trails on the east side and up the slide. Once you reach the end you will have sweeping views the Sedona desert.
Keep in mind: This hike complete exposure to the sun as you're hiking along a sandstone trail with very little vegetation. Be very wary of your path at the end of the hike since the trail is not so obvious. There will be baskets of cairns that guide you to the north face of Bell Rock. If you're trying to reach the end, there are certain areas that require some serious scrambling.
Frequently Asked Questions about Sedona
How long does it take to Hike Devil's Bridge in Sedona?
The hike to Devil's Bridge is around 4.5 miles and will take approximately two and a half hours. The start of the hike is a 4×4 dirt road and takes you to the actual trailhead. From there the well established hike takes you just 564 feet in elevation gain, over a mild series of switchbacks and stone steps. From there you'll reach a plateau and a trail that leads you directly to the Devil's Bridge.
What do I need to hike in Sedona?
Hikes in Sedona take place in a arrid desert landscape along steep cliffs, sun exposed trails, and may require scrambling to complete the trail. With this in mind, you should bring at least two liters of water for all of your hikes, a flashlight or head lamp, sun protection such as a hat and sun block, a rain jacket in case of any rain or sudden winds, some form of navigation, first aid kit, a knife, a fire starter, an emergency shelter, snacks and extra food, and a light jacket. Bringing these ten essentials will help you prepare for a variety of unexpected situations and bring you peace of mind during your hikes.
More Helpful Resources