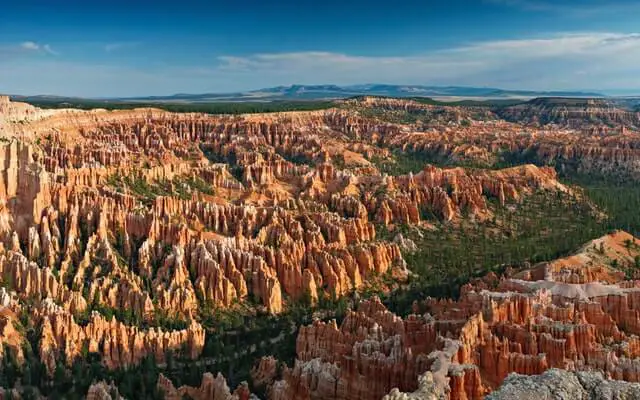 Home to the world famous red and orange Hoodoos, Bryce Canyon National Park is located in Southern Utah. The cost to enter Bryce Canyon National Park has increased along with other national parks as of June 2018. The cost to enter is as follows:
Personal Car : $30
Personal RV : $30
Personal Motorcycle : $25
Individual Persons (pedestrian, biker, ect.) : $15
Although the park entrance fees have increased, 80% of your entrance fee goes directly towards helping Bryce Canyon National Park. The fee helps the National Park Service maintain the many trails of Bryce Canyon, repair and upkeep park facilities, improve and expand park projects, improve on historical Bryce Canyon projects, and much more. Not only does the park entrance fee let you enter and roam the park, but you get to use the many park facilities, and see amazing sights and sounds.
Is the park entrance fee valid for more than one day?
The park entrance fee for Bryce Canyon National Park and all other national parks is good for a full seven days. The seven days must be in a row. This means you can freely enter and exit the park in a seven day span. This also means you cannot leave the park and return a few weeks later with the same pass as it will have expired. If you're looking to save money, there are a few tips below.
Can I pay for my park entrance fee online instead?
If you don't want to pay at the park entrance station or you want to plan ahead and purchase online, you can buy your park entrance pass at Recreation.gov. The cost to pay online is exactly the same as the list above. Once you pay and check out, you will receive an order confirmation email with the entrance pass attached as a PDF. Be sure to print out the entrance pass PDF to present to the park ranger as electronic copies of the entrance pass will not be accepted.
Are there any ways I can save money on my park entrance pass?
The national park system offers many ways for park visitors to save money on their entrance fees. If you plan ahead and budget accordingly you can save a lot of money. The national park service offers fee free days, annual passes, senior passes, military passes, and passes just for fourth graders. All of these options will provide plenty of options to save money for budgets and itineraries of all sizes!
National Park Fee Free Days
The national park service actually has six free free days for park visitors. That means that on these specific days all visitors do not have to pay any kind of fee in order to enter the park. These days are fee free in order to celebrate various holidays or historical events. The six fee free days are:
Martin Luther King Jr. on January 20
National Park Week (Day One) on April 18
Great American Outdoors Act Passage Celebration on August 5
Birthday for National Park Service on August 25
Celebration of National Public Lands Day on September 26
Veterans Day on November 11th
America the Beautiful Annual Pass
The National Park Service provides park visitors with the opportunity to pay for an annual pass for $80. This pass allows you to enter an unlimited number of national parks and federal lands for just $80. You just need to pay for the pass once and present the pass at any number of national parks to get in for free. This is a great value if you plan on visiting at least three national parks within the same twelve months!
Senior Passes
Similar to the America the Beautiful Annual Pass, seniors also have an annual pass for just $20. This pass allows seniors with the badge to enter as many national parks as they want within a twelve month time frame. This is a great deal and a no-brainer to buy as you'll automatically save $10 off the cost to enter Bryce Canyon and you get to visit other national parks for free. Another option if you want to visit many national parks over the years is the Senior Lifetime pass. This pass is $80 and lets seniors and their passengers visit national parks completely for free for the rest of their lives!
Military Passes
For those of you in active duty in the US Military you can obtain an annual pass exclusively for military members. This pass lets you enter any national park or various federal lands for free. In order to obtain this pass just bring your active duty military id to the park entrance station and the park ranger will give you the annual pass. Once the twelve months is up and you are still active duty, just present your badge again to get a renewed annual pass!
Fourth Grader Annual Pass
The national park service wants to help inspire the next generation to visit national parks. There is an organization called Every Kid Outdoors that provides a free annual pass for all fourth graders within the US. All you have to do is sign up for the annual pass, at EveryKidOutdoors.gov. Once you are registered and receive the pass, just print it out and present it to the ranger at any national park entrance station.
Summary
Bryce Canyon National Park features magnificent sweeping views of the red orange hoodoos, gorgeous towering vermilion canyons, wonderful rock formations, and much more. The cost to enter this national park is well worth it. With some planning and strategizing you can even save money off your national park entrance fee!